---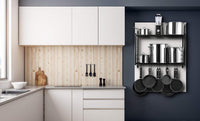 Brand: SparkWorks
Color: Black
Features:
This clean, simple design of our SparkWorks two-tier wall-mounted rack allows it to match nearly any aesthetic. Its perfect for storaging large pots and pans and displaying keepsakes, decor and plenty more.
Strong metal framing and durable construction ideal for large pots and pans. Two removable trays frees up kitchen space and offers expanding storage options.
30"L x 12"W x 25" H. Holds maximum 60lbs.
Easy to install. Mounting hardwares are included.
Details: 2-Tiered Pot Rack.
UPC: 794849590180
EAN: 794849590180
Package Dimensions: 32.2 x 13.7 x 3.9 inches