---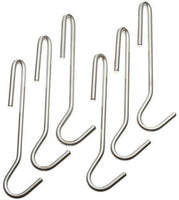 Sale
Brand: Cuisinart
Color: Stainless Steel
Features:
Stainless steel construction
Hangs pots and pans using their eyelets
Wipe clean
Publisher: Cuisinart
Release Date: 2007-03-01
Warranty: Limited Lifetime warranty
Details: Cuisinart is pleased to offer an exciting new variety of specialty pieces of Chef's Classic Stainless Cookware that make everyday cooking tasks a pleasure. New wall-mounted racks offer easy storage of cookware and the bar rack's sleek profile makes it easy to fit into any kitchen space. Set of 6 universal pot racks hooks are compatible with any Cuisinart cookware rack.
UPC: 885982409689
EAN: 0885813636505
Package Dimensions: 7.7 x 3.6 x 0.7 inches
Miine stays put. They are very solid and made to secure pretty nicely to the baker's rack. I LOVE them.
By Truthful on June 4, 2014
Might just be the height of our pot rack, but I don't remember a hook ever coming off of the rack.
By Cellomom on June 4, 2014
They stay put! i love them
By Rita Bolognani on June 4, 2014
The holes on all of my pan handles (All Clad skillet, Lodge cast iron skillet, etc.) are large enough that I lift pans right off of the hook with no problem. The part hooked onto your shelving or wall doesn't exactly snap on, but it mostly stays in place. The only time I've knocked one off of my shelving was when it di…

 
By V. R. MacMillan on June 4, 2014
The hooks stay put quite well. I like them better than the hooks that came with my rack and plan to order more to replace the originals.
By iseeskies on June 9, 2014
Had a tape measure handy in the kitchen. The opening of the narrow hook is 9/16". FWIW, the closed end of the narrow hook tapers back to 1/4" inside and the length of the open leg of the narrow hook is 1-1/4" lg.
By pardad on August 24, 2015
5/16 ".
By J Kimura on August 24, 2015
the top looks to be .25 inch and the bottom like 1 inch, but its not as curved as the photo shows its more angular actually.
By jaanarayan on August 24, 2015
goes from approximately 3/8 inch at the narrow end to approximately 1/2 at the hook end where you would hang your utensil
By lloyd m. on August 24, 2015
The body of the hook is straight, the portion that hangs from your rack or cart has a sharp "U" shape and is rubber coated, and the portion that your tools or pans/pots hang from is like an opened "U" shape. I hope that this explanation makes sense. The hooks look exactly as pictured in the listing. I cannot answer you…

 
By Diane B on December 14, 2014
Yes, even though the photo shows steel the oiled bronze one is actually a dark oiled bronze. I was wondering too but took the leap and ordered some!
By Jaciones on January 14, 2015
Yes
By Ellie Blue Stocking on August 7, 2014
I could not attach these hooks to the pot rack I purchased.
By Mary McGonegle on August 7, 2014
yes
By CheleB on August 7, 2014
These hooks are hooked at both ends. The end that attaches to the pot rack has an opening 3/8 inch at the widest and 3/16 inch at the narrowest. My pot rack is made of 1/4 inch (2/8 inch) stainless steel flat stock. The hooks rest on my pot rack almost the entire distance of the hook.
By Donald L. Protzman Jr. on August 8, 2014
Yes
By Ellie Blue Stocking on August 7, 2014