Sausage Chicken Cassoulet is a delicious take on a traditional cassoulet. Slow cooking and a combination of rich spices, aromatic herbs and hearty ingredients, makes this an unbelievable comfort food.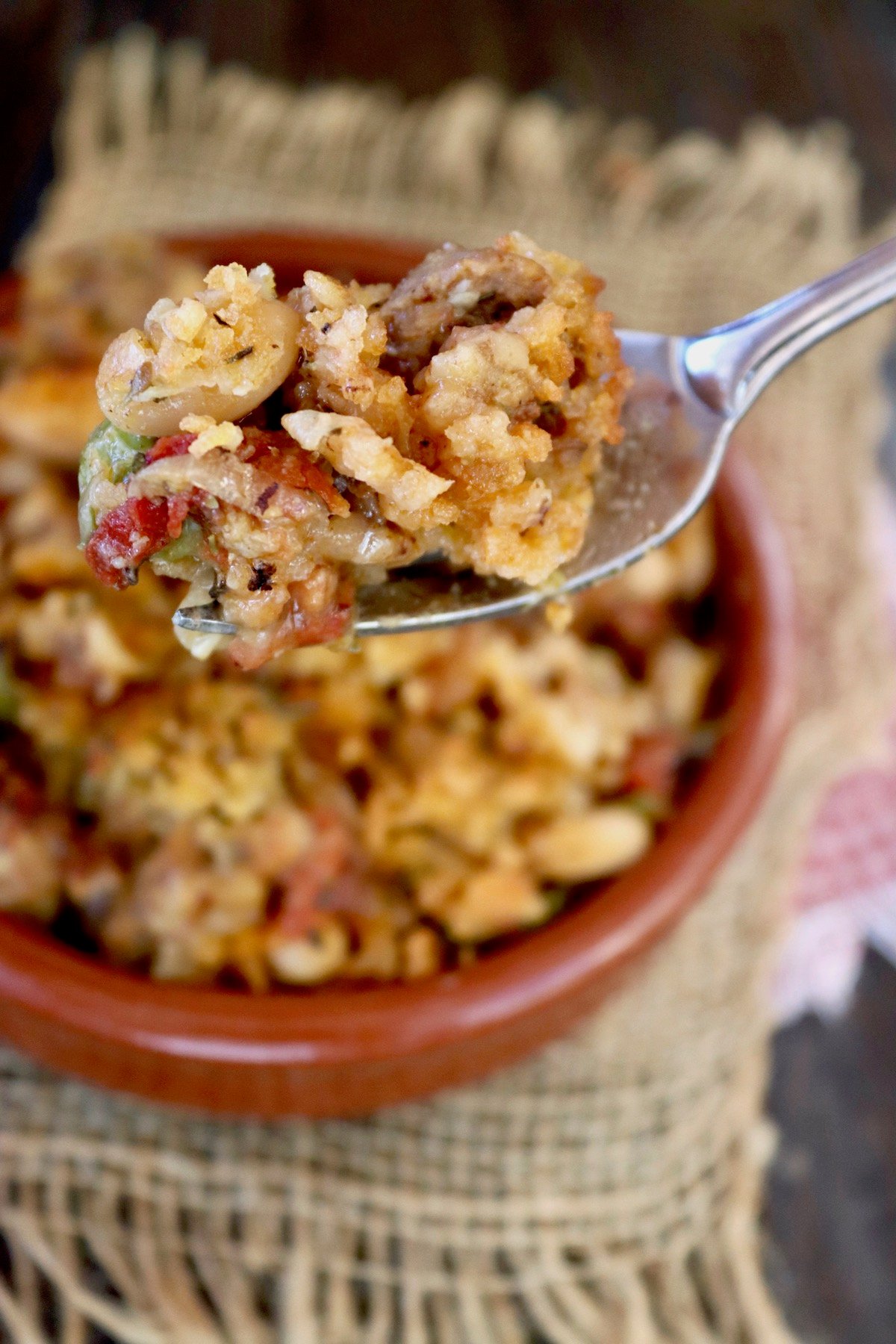 Cassoulet
Cassoulet is a rich, slow-cooked bean stew or casserole that originated in the south of France.
Traditionally it includes white kidney beans, pork sausages, pork, goose, duck confit and sometimes mutton. (Duck confit is duck cooked in its own fat.)
The chicken cassoulet I'm presenting is a twist on the classic, and it's amazing!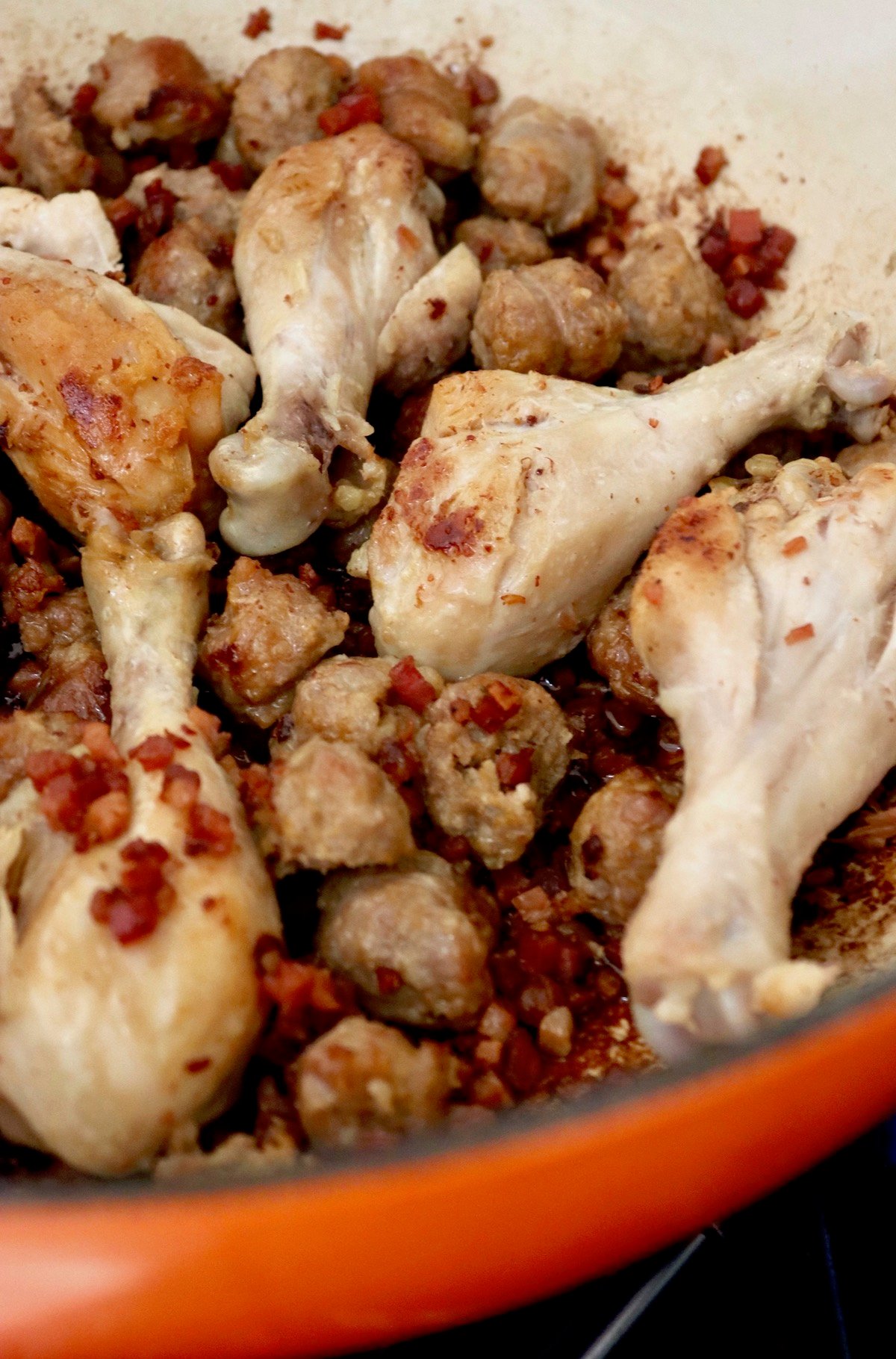 It's the combination and the cooking process that make this dish so incredible. It's a fantastic weekend cooking project.
If you love cooking, your house smelling delicious and exceptional food, you should definitely try this.
I call it a project because you can't just whip it up and get it on the table quickly. Sausage and Chicken Cassoulet takes a good amount of time (roughly 3½ hours — 2½ of which is inactive). I promise you though, the results will be worth it.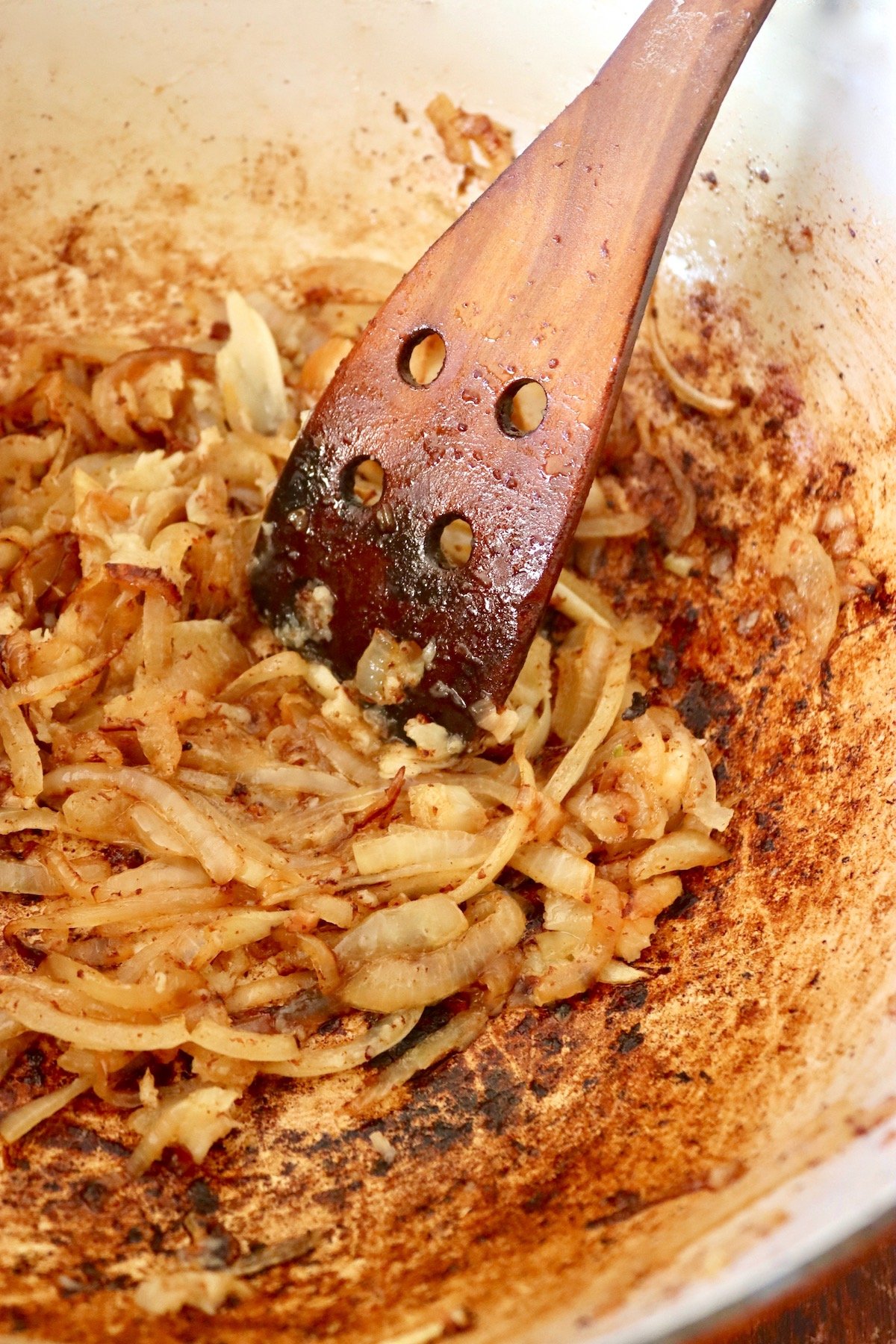 What Baking Dish to Use for Cassoulet
This chicken cassoulet recipe can be made in either individual ramekins or in large baking dishes.
The ingredient measurements will make:
– one (9 x 13 x 3 inch) casserole with 6 to 8 generous servings
– two (9 x 13 x 2 inch) casseroles with about 10 slightly smaller servings
– 10 individual servings in (approximately) 5 x 1¾ inch ramekins.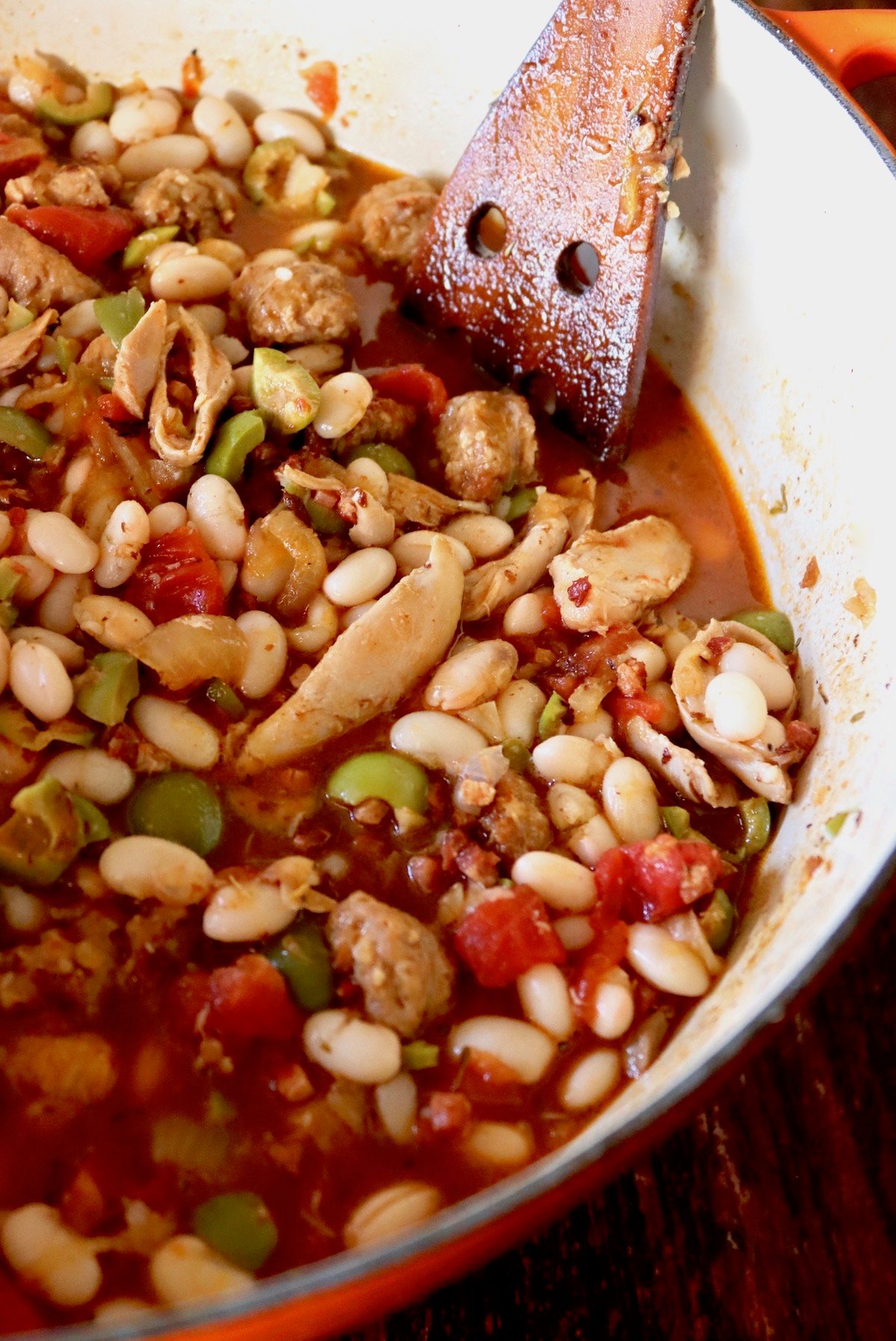 How to Make this Cassoulet
Since this is a pretty involved dish, let's break it down into sections so you can see it's not actually daunting . . . .
First, what can you do ahead? Roast garlic and cook beans. These two things can be done up to three days ahead.
Then . . .
Prep ingredients. This is a recipe where I really like to have everything sliced and diced and measured ahead. It'll make the whole process smooth.
Cook all of the meats (sausages, pancetta and chicken), and remove them from the pan.
Add remaining ingredients (except beans and topping), in stages, return meats, and reduce entire mixture on the stove.
Add beans and then add mixture to desired baking dish (or dishes), apply topping and bake.
Can you make the whole recipe ahead?
100%! This can be made up to three days ahead. Be sure it's completely cooled before covering and refrigerating. When you're ready to serve, let it come back to room temperature and heat in the oven until it's sizzling along the edges.

Time Saving Tips
Instead of

homemade cannellini beans

, which can be made a couple of days ahead of time, canned, drained beans are okay too.
You can usually buy pancetta in large pieces, or pre-diced. Either one is okay, and pre-diced will save time.
Instead of the chicken legs, use meat from a rotisserie chicken.
Roasted garlic adds a different subtly sweet flavor to the dish. If you'd like use raw garlic — about

½

the amount.
More Tips and Recipe Substitutions
The recipe calls for sweet Italian pork sausage. If you prefer a little heat, use spicy Italian sausage. It's also okay to use chicken sausage.
To switch out any dry herbs for fresh, use about

⅓

the amount, and accordingly to use fresh instead of dry, use three times the amount.
Do not skimp on the long baking time — this is inactive time that is what creates the wonderful richness and amazing texture.
Gluten-free? Easy — just use gluten-free bread crumbs
I hope you love this as much as I do!
Oh and for another twist on cassoulet, here's a recipe for a delicious vegetarian version.

More chicken comfort food recipes:
Print
Sausage Chicken Cassoulet
Sausage Chicken Cassoulet is a delicious take on a traditional cassoulet. Slow cooking and a combination of rich spices, aromatic herbs and hearty ingredients, makes this incredible.
*Note that you should
roast the garlic
and cook the beans (if you're not using canned) before you begin -- both made up to a few days ahead.
Keyword
chicken for family dinner, comfort food recipes for fall and winter, cooking with beans
Cook Time
2
hours
30
minutes
Total Time
3
hours
30
minutes
Ingredients
½

pound

diced pancetta (about 2 cups),

approximately ¼ inch dice

1

pound

Italian sausages (about 5 links),

cut into about ½ inch slices

1¼

pound

chicken legs (about 5),

skin removed

2½

cups

yellow onion,

thinly sliced

2½

teaspoons

dried thyme

1¼

teaspoons

smoked paprika

1¼

cups

green olives,

roughly chopped (I like Castelvetrano)

1¼

cup

canned diced tomatoes with about 3 tablespoons of the juice

1¼

cup

dry white wine (Sauvignon Blanc, Chardonnay, Pinot Blanc, Pinot Grigio)

2½

cups

chicken stock

4¼

cups

cooked cannellini beans

2

tablespoons

finely chopped fresh rosemary,

washed and dried

2

cups

breadcrumbs

salt and freshly ground black pepper

olive oil
Instructions
Roast garlic. If your garlic is not already roasted, do it first. Here's how.

Cook pancetta, sausage and chicken. Add the pancetta to a large pot or Dutch oven over low heat. Render the pancetta for about 10 minutes. (Rendering the pancetta slowly melts it, releasing all the fat and making the meat crisp.)

Turn the heat up to medium and add the sausage to the pot. Cook until it begins to brown, about 10 minutes.

Then, moving the pancetta and sausage around the pot to make a bit of space, add the chicken and sear them. Once they're slightly browned on all sides, reduce the heat to low, cover the pot and cook until the meat is cooked through, about 15 minutes.

Use a slotted spoon to remove all of the meat from the pot and add it to a large bowl, leaving behind the fat.

Cook onions, add garlic. Over medium-high heat, add the onions. Stirring every few minutes or so, cook the onions until they are very tender and are beginning to brown, about 15 minutes. Add the roasted garlic and stir to blend.

Prep chicken to return to pot. While the onions are cooking, remove the chicken meat from the bones and break it into bite-sized pieces.

Add spices. Add the thyme and paprika to the pot and cook for a couple minutes, until it's very aromatic.

Add olives and meat, deglaze and reduce. Add the olives, return all of the meat to the pot, and stir to combine. Then turn the heat to low and deglaze the pot with the tomatoes, wine and stock. Turn the heat to medium-high and use a flat-bottomed spatula to scrape any stuck bits of food from the bottom of the pot, back into the mixture.

Bring to a boil, then reduce the heat to medium-low and simmer to reduce the liquid by one third. This should take about 30 minutes.

Set oven. Preheat the oven to 275°F and adjust a rack to the center.

Add beans and season. Fold in the cooked cannellini beans and season generously with salt and pepper.

Assemble and bake. Pour the mixture into one (9 x 13 x 3½ inch) casserole with 6 to 8 very generous servings OR, two (9 x 13 x 2 inch) casseroles with about 10 slightly smaller servings OR, 10 individual servings in (approximately) 5 x 1¾ inch ramekins. Add the rosemary to the breadcrumbs and sprinkle the mixture evenly over the top. (If you're using only one baking dish you will only need ½ the amount, and about ⅓ less if you're using the ramekins.)

Drizzle them with olive oil and then bake, covered (with foil or lid), in the preheated 275°F oven for 2 hours. Uncover and place them under the broiler to brown the tops, about 1 minute.

Serve. Let the cassoulet rest for at least 15 minutes before serving.
Notes
Calorie count is only an estimate.
Nutrition
Cooking On The Weekends is a participant in the Amazon Services LLC Associates Program, an affiliate advertising program designed to provide a means for sites to earn advertising fees by advertising and linking to Amazon.com.
The post Sausage Chicken Cassoulet appeared first on Cooking On The Weekends.