KFC Buttermilk Biscuits have to be one of my guilty pleasures. They are soft, billowy, and have a crunchy top. You know you don't have to leave home to enjoy biscuits just like the KFC Buttermilk Biscuits.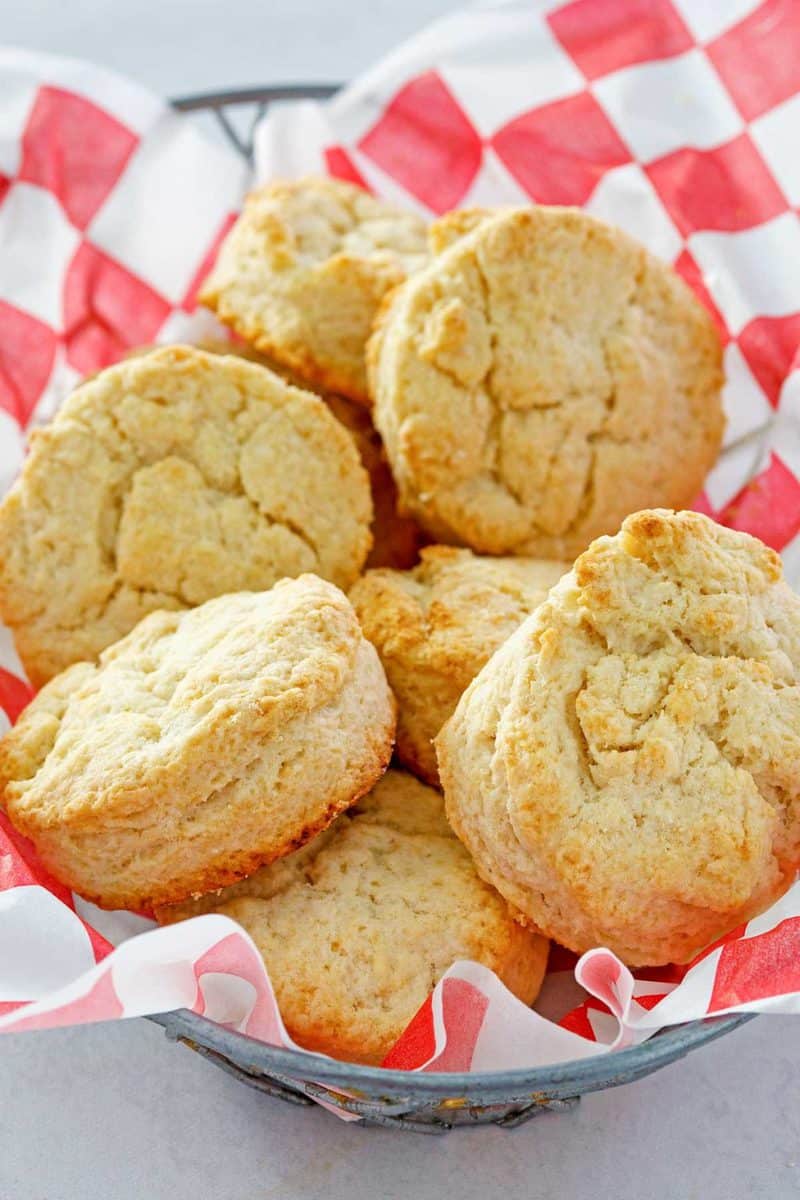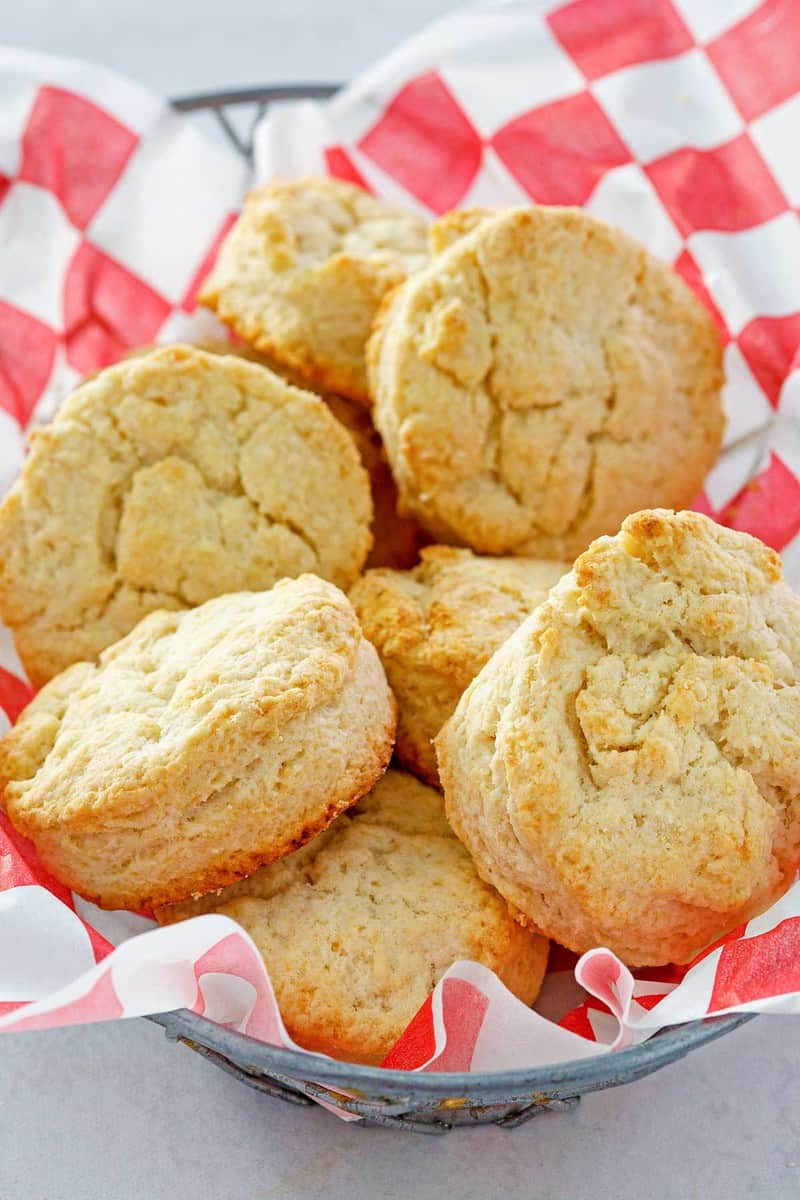 This post contains affiliate links. As an Amazon Associate, I earn from qualifying purchases.
What I really like about making these KFC Buttermilk Biscuits at home means I can make them for breakfast, you can't buy these biscuits in the restaurant before lunch.
Why This Is the Best Copycat KFC Buttermilk Biscuit Recipe
This recipe for KFC biscuits is just about as simple as it can get without popping a tube of premade dough. But simplicity doesn't mean tasteless. Nope. These KFC copycat biscuits are deliciously buttery and flakey.
What Makes These Biscuits so Flavorful? 
Fat equals flavor and cutting in an entire stick of ice-cold butter instead of oil, margarine, or shortening like some other recipes call for means unbelievably delicate and tasty biscuits.
The relatively large amount of buttermilk lends a substantial tang that adds to the depth of the flavor, giving this KFC biscuit recipe the authentic taste of a country kitchen. 
KFC Biscuits Ingredients
To make the KFC biscuit recipe, you will need:
Self-rising flour
Sugar
Cream of Tartar
Butter
Buttermilk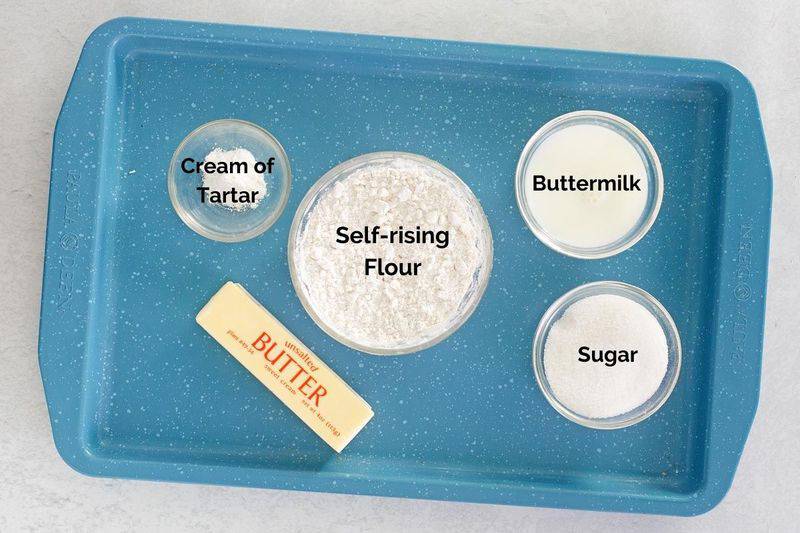 Ingredient Notes
Don't fear the butter; it is essential for the biscuits to come out properly. When you cut the butter into the self-rising flour, use ice-cold butter to create the air pockets important for the perfect texture.
Self-rising flour contains flour, baking powder, and salt, and it helps biscuits rise in the oven and turn golden brown. If you don't have self-rising flour, you can make your own by adding one-and-a-half teaspoons of baking powder and one-quarter teaspoon of fine-ground salt for each cup of AP flour. 
Don't leave the cream of tartar out. It supercharges the baking powder in the self-rising flour, adding more oven spring and tang to these KFC style biscuits.
It isn't a Southern-style biscuit without buttermilk. Real buttermilk is the liquid left after churning butter, but the kind you buy in the store is cultured buttermilk, lightly fermented milk. You can use either variety in this recipe or look below for alternatives
Ingredient Substitutes
No buttermilk? No problem. Try one of the following buttermilk substitutions:
Combine a tablespoon of lemon juice with a cup of whole milk and leave on the counter for about 15 minutes, or until it starts to curdle. You can also use white vinegar instead. 
Mix three-quarters of a cup of plain Greek yogurt or sour cream with a quarter-cup of whole milk and whisk well. 
Use unsweetened kefir as a one-to-one replacement for buttermilk.
How to Make KFC Biscuits
Here are the steps for making copycat KFC style biscuits at home:
Place the oven rack in the middle and preheat to 425 degrees.
Chop the butter into small pieces. Work quickly and avoid touching the butter with your hands to make sure the butter stays as cold as possible.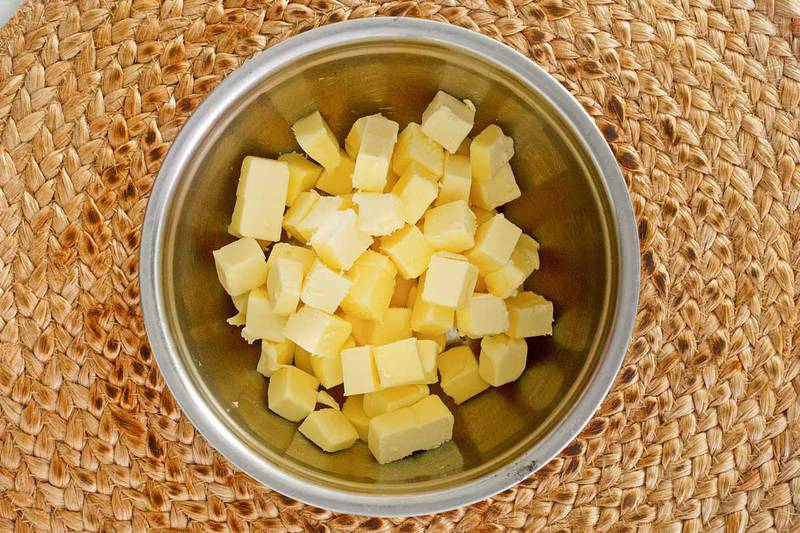 Stir together all the dry ingredients in a mixing bowl. 
Add the butter to the flour.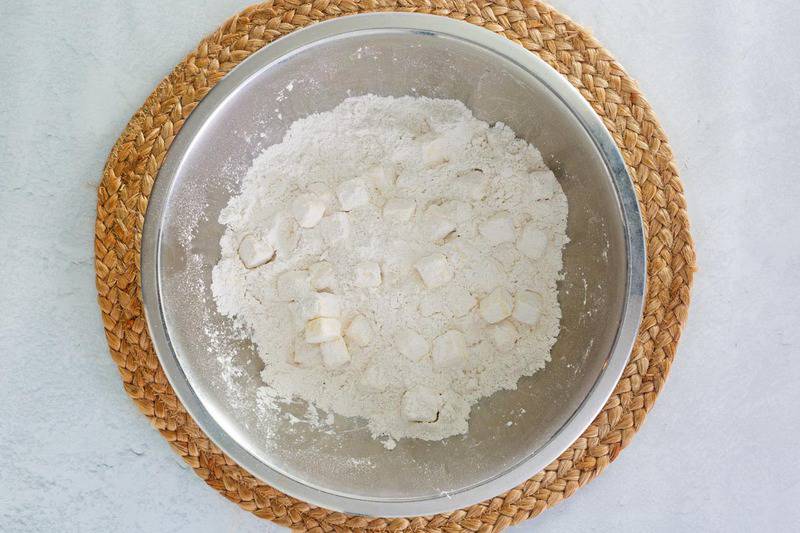 Use a pastry cutter or the back of a large fork to cut in the butter until the ingredients resemble cornstarch.
Pour in the buttermilk and lightly stir to make a dough.
Roll the biscuit into a three-quarter-inch thick rectangle on a floured surface. 
Cut with a biscuit cutter or a glass and place on an ungreased baking sheet. 
Use a pastry brush to top each biscuit with a bit of melted butter. 
Bake the biscuits in the oven for 12 to 15 minutes.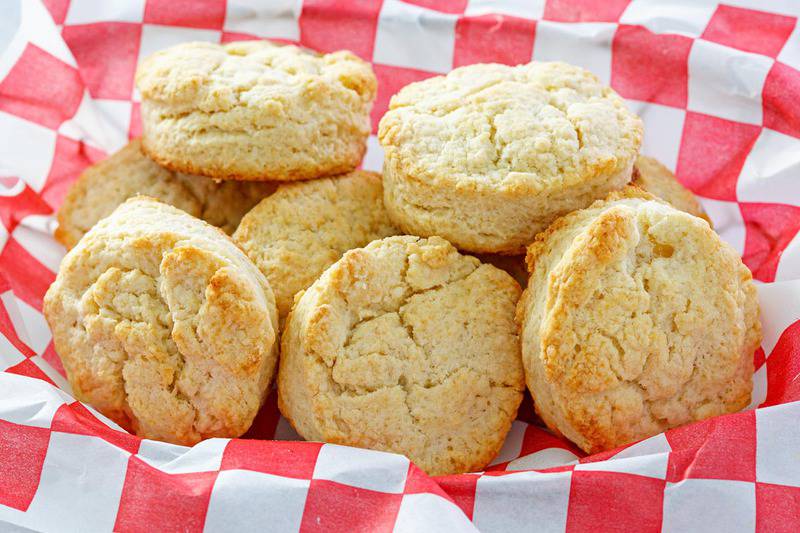 Recipe Variations
You can also make these copycat KFC biscuits in the air fryer to save a few minutes and avoid running the oven.
To make in the air fryer:
Preheat the air fryer to 375 degrees.
Spray the bottom of the biscuits with a little oil to keep them from sticking.
Cook the biscuits for 10 minutes, flipping them halfway through.
What Goes Well With KFC Biscuits
Biscuits are the perfect side for everything from fried chicken to chicken fried steak. Serve these KFC Butter Milk Biscuits as the base for sausage gravy or a bun for a breakfast sandwich.
How to Serve Biscuits
Just out of the oven is the best way to eat biscuits, but you can make them in advance to save time in the morning. 
How to Store Biscuits
Fresh biscuits may be the best, but sometimes it just isn't practical. You can keep biscuits in a plastic bag in the crisper portion of your fridge for three or four days. 
How to Freeze Biscuits
To freeze homemade biscuits:
Let them cool completely on a wire rack.
Wrap them separately in aluminum foil.
Place the biscuits together in an airtight container and store them in the freezer for up to three months.
How to Reheat Biscuits
To reheat buttermilk biscuits:
Preheat the oven to 350 degrees.
Place the biscuits on a parchment-lined baking tray and cover them with aluminum foil.
Reheat frozen biscuits for about 15 minutes and unfrozen biscuits for around three minutes. 
If your biscuits dry out a little in the fridge, try wrapping them with a damp paper towel and microwaving for about 25 seconds on high.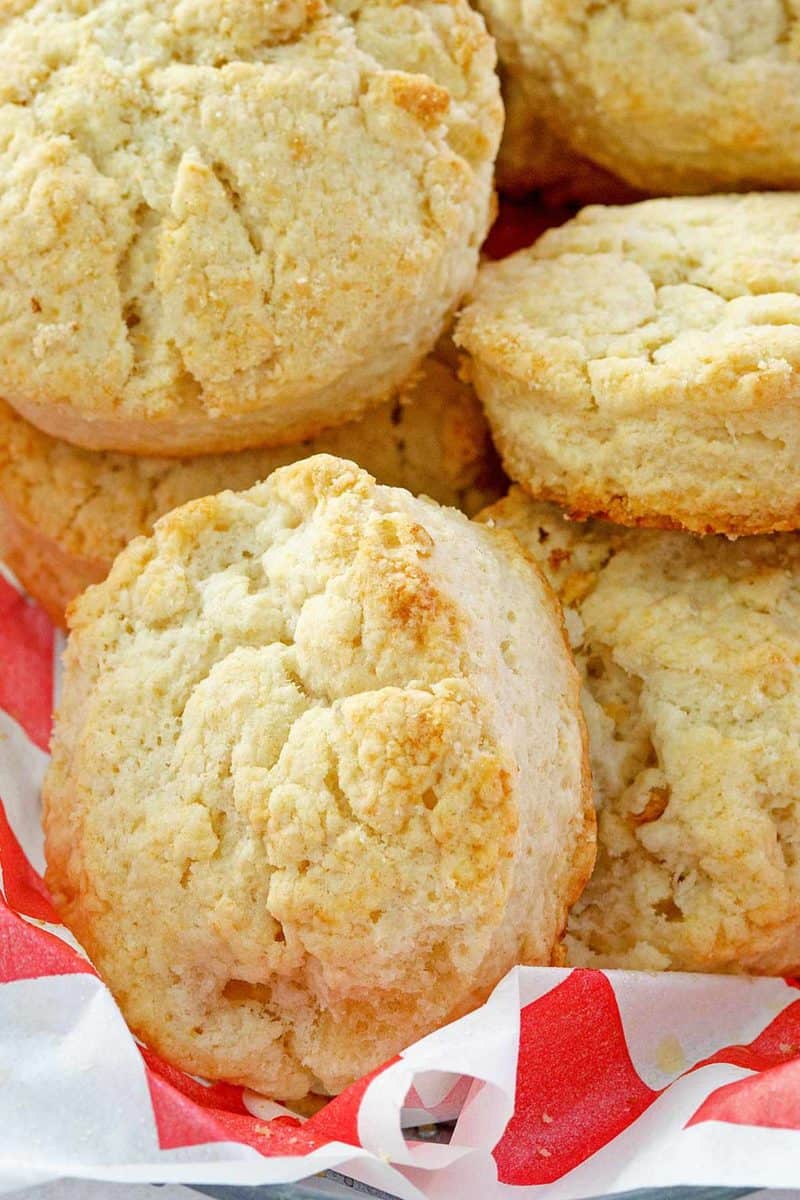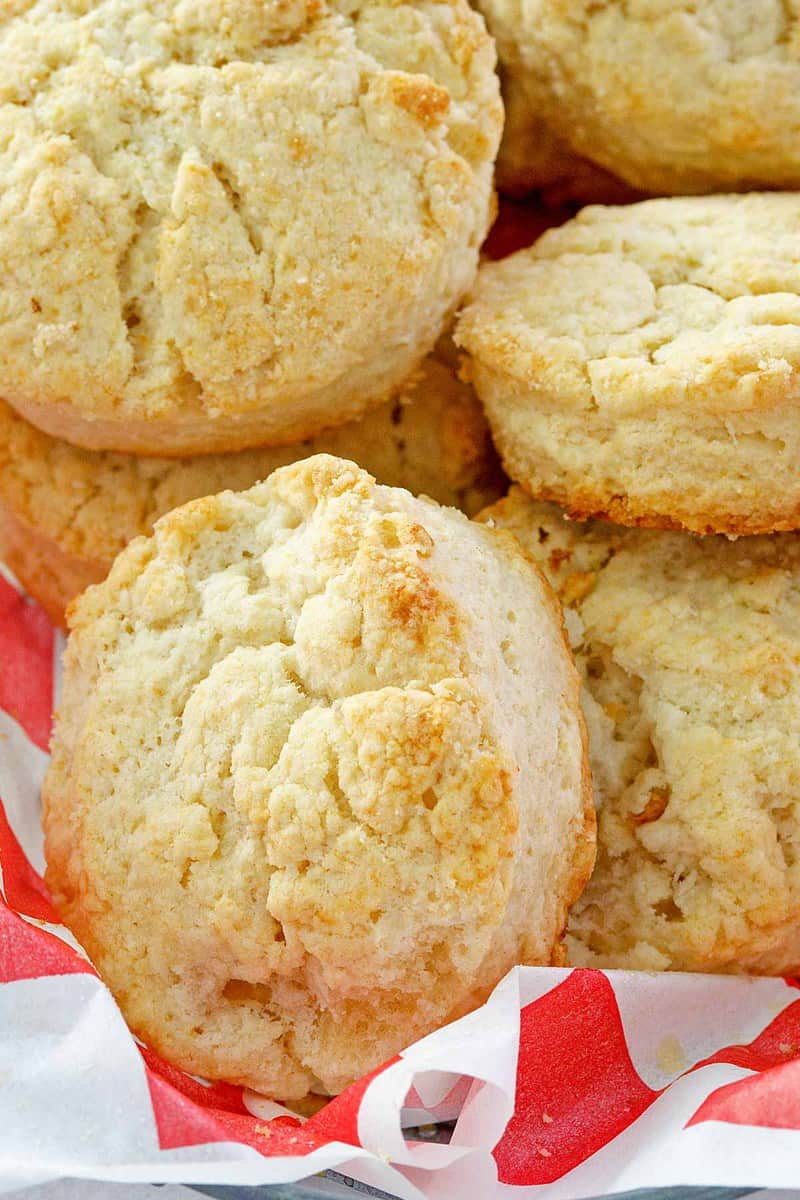 Love KFC? Try these KFC Copycat Recipes!
More Biscuit Recipes
Check out more of my easy bread recipes and the best fast food recipes here on CopyKat!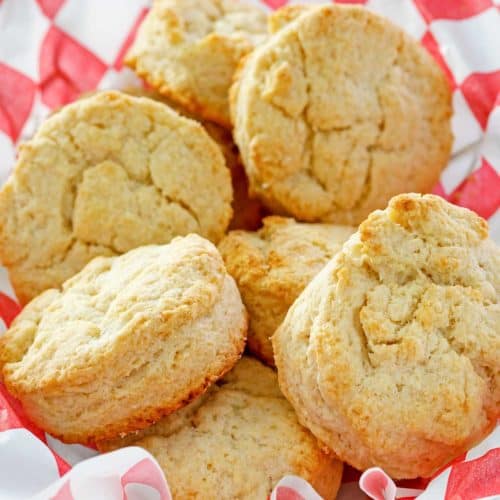 Print
Add to Collection
Go to Collections
KFC Buttermilk Biscuits
Make KFC Buttermilk Biscuits at home with this easy copycat recipe.
Keyword
Biscuits, Buttermilk Biscuits, KFC Biscuits
Ingredients
1/2

cup

butter (or shortening)

chilled

2 1/2

cups

self-rising flour

2 1/2

teaspoons

sugar

1

teaspoon

cream of tartar

1

cup

buttermilk

2

tablespoons

melted butter
Instructions
Preheat the oven to 425°F.

Cut the chilled butter or shortening into small cubes so that it will be easier to work into the flour.

In a medium-sized bowl combine the self-rising flour, sugar, and cream of tartar.

Add the cubed butter or shortening, and work it into the flour until it reaches a large sand grain texture.

Add the buttermilk, and mix until it is incorporated into the dough.

On a floured surface, turn the dough out of the bowl, and form it into a round shape.

Use a rolling pin to gently roll out dough to about 3/4 inch thick.

Use a biscuit cutter to cut out biscuits and place them on an ungreased cookie sheet.

Brush the tops of the biscuits with melted butter.

Bake for 12 to 15 minutes.
Video
Notes
You can substitute shortening for the butter in the dough.

If you use shortening, chill it so you cut it into small pieces.
Nutrition
Calories:
194
kcal
|
Carbohydrates:
20
g
|
Protein:
3
g
|
Fat:
10
g
|
Saturated Fat:
6
g
|
Cholesterol:
27
mg
|
Sodium:
105
mg
|
Potassium:
94
mg
|
Fiber:
0
g
|
Sugar:
1
g
|
Vitamin A:
330
IU
|
Calcium:
29
mg
|
Iron:
0.2
mg
The post KFC Buttermilk Biscuits appeared first on CopyKat Recipes.