---
Everybody misses desserts when they switch to a keto lifestyle, but they don't have to! Some of my favorite recipes to develop are low carb and keto-friendly dessert recipes. With some key swaps of ingredients you can make super easy and super delicious keto desserts, these are the 5 recipes that I make the most!
Keto Strawberry Cheesecake Mousse

Keto Frosted Animal Cookie Parfait

Keto Fudge and Coffee Popsicles

Keto Spiced Creme Brûlée

Keto Chewy Chocolate Chip Cookies
4oz cream cheese, softened
1 tablespoon heavy whipping cream

1 teaspoon erythritol (I use Swerve) 

1 teaspoon vanilla

4 strawberries, hulled

4 strawberries, sliced
 DIRECTIONS
Place softened cream cheese into a food processor, I like to break it up into smaller pieces. Add the cream, sweetener and vanilla. 

Mix together on high until combined. Scrap the sides of the bowl and mix again. 

Add the strawberries into the food processor and mix until combined. 

Divide the strawberry cheesecake mixture between 2 small dishes

Layer in the sliced strawberries, you can also top with some whipped cream if you would like.
KETO STRAWBERRY CHEESECAKE MOUSSE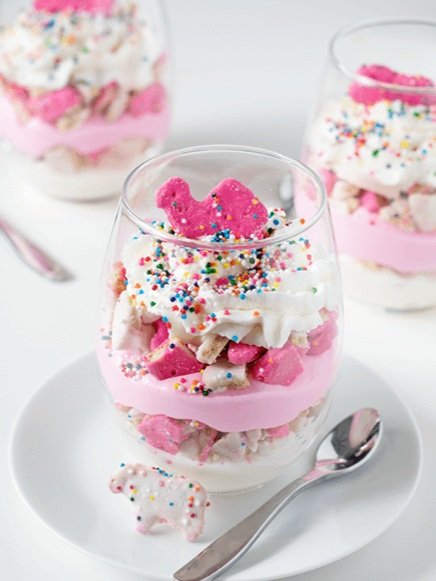 COOKIE INGREDIENTS
1 ½ cup almond flour

¼ cup coconut flour

¼ teaspoon salt

3/4 cup unsalted butter, softened

½ cup monk fruit blend or sweetener of choice

1 teaspoon vanilla
Keto Frosting
Directions
1.      Sift together almond flour, coconut flour and salt in a medium bowl.
2.     In a medium bowl, mix together butter, monkfruit and vanilla extract.
3.     Slowly add in dry ingredients. Mix Well
4.     Wrap cookie dough in plastic wrap. Mold into a flat disc shape. Chill for 30 Minutes.
5.     Place dough in between two pieces of parchment paper. Using a rolling pin, roll out dough until it is ¼ inch thick. Cut out animal shapes with cookie cutters. Place about 1 inch apart on a parchment lined baking tray. Return to the refrigerator to cool for another 10-15 minutes. Preheat oven to 350 degrees.
6.    Bake cookies at 350 degrees for about 6 minutes or until edges start to turn golden brown. Remove from the oven and let cool on the baking tray for 2-3 minutes before transferring to a wire rack to finish cooling completely.
7.     Melt ChocZero white baking chips in a small microwave safe bowl. Stirring every 30 seconds until melted, stirring in between. Add food coloring if desired.
8.    Dip cooled cookie in melted chocolate and place on the wire rack to set. Add Sugar Free sprinkles while the chocolate is still warm.
KETO FROSTED CIRCUS ANIMAL COOKIE PARFAIT
FUDGE POPSICLES
DIRECTIONS
In a blender or food processor mix together all of the ingredients.

Pour into ice molds.

Freeze for at least 2 hours before serving.
FUN WITH TOPPINGS
Once you have your frozen popsicles, you have the perfect canvas for creativity! Here are some fun ideas!
Keto-friendly chocolate syrup as the base to stick any other toppings

My favorite is from ChocZero (they have lots of other flavors too)

Sliced almonds or crushed nuts

Keto-friendly sprinkles, I love these

Coconut flakes

Shaved chocolate

Sugar free chocolate chips are also great for dropping into popsicles
KETO FUDGE AND COFFEE POPSICLES
INGREDIENTS
1½ cups grass-fed heavy cream

¼ cup granulated erythritol

½ teaspoon ground cinnamon

¼ teaspoon ground nutmeg

1/8 teaspoon ground cloves

4 large egg yolks

1 teaspoon vanilla extract

4 teaspoons granulated erythritol (for the top)
INSTANT POT DIRECTIONS
In a small saucepan heat the cream just until it starts to simmer. Remove from heat. Set aside and let cool slightly.

Meanwhile, in a medium bowl combine the ¼ cup Swerve, cinnamon, nutmeg, and cloves. Whisk in egg yolks and vanilla. Slowly whisk in the hot cream. Divide custard mixture evenly among four 5- to 6-ounce ramekins or custard cups. Cover each dish tightly with foil.

Place a trivet in the Instant Pot. Add 1 cup water. Place three ramekins on the steam rack; place the remaining ramekin staggered on top. Secure the lid to the pot. Close the pressure-release valve. Set the pot at HIGH pressure for 9 minutes. At the end of cooking time, use a quick-release to depressurize. Carefully remove ramekins from pot and let cool, covered, on a wire rack. Refrigerate for at least 2 hours or up 8 hours.

Before serving, remove foil from ramekins; place on a baking sheet. Adjust an oven rack to 4 inches from heat source. Preheat the broiler. Sprinkle the top of each custard with 1 teaspoon granulated erythritol. Broil until the tops are bubbling and lightly browned, 1 to 2 minutes (watch carefully to prevent burning). Remove from the oven and let sit until topping hardens.
Pressure Cooker Tip: Simple and inexpensive, a canning jar lifter makes it safe and easy to remove ramekins from the Instant Pot.
KETO SPICED CRÈME BRÛLÉE
INGREDIENTS
·      ¼ cup unsalted butter
·      1 ¼ cups almond flour
·      ¼ tsp salt
·      ¼ cup erythritol
·      ¼ tsp cream of tartar
·      1 large egg
·      1 tsp vanilla extract
·      ¼ cup of Choc Zero chocolate chips (they make dark, milk and white)
DIRECTIONS
1.     Preheat oven to 350
2.     Line a baking sheet with parchment paper or silicone baking mat and set aside.
3.     In a saucepan or in the microwave, melt the butter. Place in a room-temperature container and let it set in the refrigerator for 10 minutes to cool down.
4.     In a large bowl, combine the almond flour, salt, erythritol, and cream of tartar. Stir to combine.
5.     In a small bowl, combine the egg, vanilla, and cooled butter. Whisk together.
6.     Pour the wet ingredients into the dry ingredients and combine everything together with a large spoon or rubber scraper, then fold in the chocolate chips.
7.     Scoop out 2 to 3" mounds of cookie dough and place on the prepared baking sheet. I like to flatten mine a bit.
8.     Bake the cookies for 10 to 12 minutes before transferring them to a cooling rack for an additional 15 minutes.
9.     These will make puffy chocolate chip cookies with a chewy center. I absolutely love them cold, so I generally store in the refrigerator.
KETO CHEWY CHOCOLATE CHIP COOKIES