The Always Pan's big sibling aced our lab tests, but didn't completely satisfy this experienced home cook By Mary H.J. Farrell
As a cookware maven, I own numerous pots and pans—including eight Dutch ovens in various sizes. That's too many to store neatly in my small kitchen, but I use them all.
So when Our Place, maker of the wildly popular Always Pan, released the Perfect Pot, I was curious to see what, if anything, it could add to my cookware lineup.
The Perfect Pot, $165, is the larger and deeper sibling of the Always Pan, which I recently tried out in my kitchen, with mixed results. The Perfect Pot comes in seven colors (the Always Pan comes in the same seven, plus three more) so you can get a matching pair if you want.
Unlike the Always Pan, the Perfect Pot can go from stovetop to oven, making it somewhat—but not exactly—like a Dutch oven. While Dutch ovens are typically made of coated cast iron, both the Perfect Pot and the Always Pan are made of cast aluminum with a ceramic nonstick coating. And because the lid has a built-in spout and strainer, it isn't as tight fitting as the lids on your typical Dutch oven.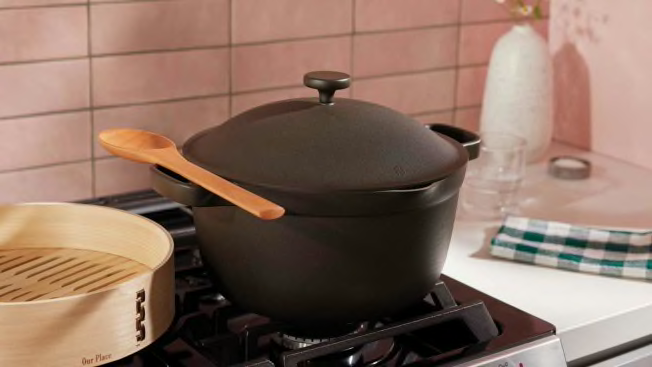 The spoon that comes with the Perfect Pot balancing on its handles.
Photo: Our Place
Why Would You Need a Perfect Pot?
What does the Perfect Pot do—perfectly or otherwise—that other cookware doesn't? According to Our Place, pretty much everything. The manufacturer claims the pot can replace your "stockpot, Dutch oven, saucepot, roasting rack, steamer, strainer, braiser, and spoon rest" (because the included wooden spoon can balance on the pot's looped handles, as shown above).

As with the Always Pan, claims for the Perfect Pot are a bit over the top.
"Made with the same game-changing ingenuity that made the Always Pan a sellout, the Perfect Pot does everything from boiling to baking, crisping to steaming," the website proclaims. "Simply put, we reimagined what a pot can be, and it turns out, a pot can be perfect."
And who might benefit from this perfection? "It's designed for anyone who eats," said Johanna Albertsson, a spokeswoman for Our Place, via email, adding a smiley emoji.
At Consumer Reports' cookware lab in Yonkers, N.Y., we put the Perfect Pot through the same tough tests we use in evaluating Dutch ovens: baking bread, cooking brisket, simmering tomato sauce, and boiling water. And it performed well—almost perfectly, in fact. But because it's made of a different material than the Dutch ovens we test, you won't find it in those comparative ratings. 
Below, I'll fill you in on how the Perfect Pot did in those tests, and how it fared in my own kitchen. My evaluation of the Perfect Pot coincided with an extended visit by family, which gave me the opportunity to use it for a variety of foods.
I ended up just leaving it on the stovetop for a few weeks so I could use it as much as possible. I quickly discovered that it cleans like a dream—all it takes is a simple hand washing with a little dish soap—so I fell into a comfortable routine: cook, clean, rinse, repeat.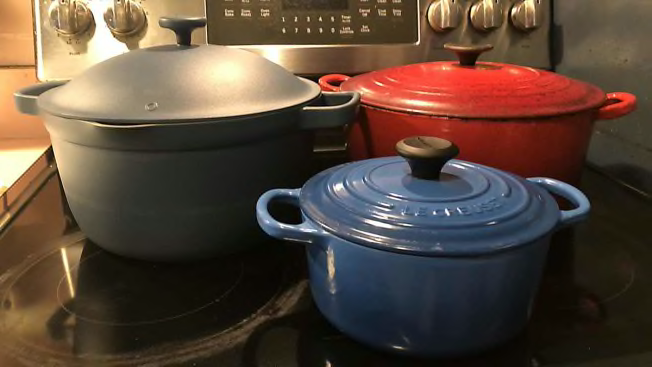 Although it holds the roughly same volume of liquid or food, the Perfect Pot, left, is taller than the equivalent Le Creuset (in red).
Photo: Mary Farrell/Consumer Reports
What's in the Box?
The Perfect Pot comes with a lid with a built-in strainer, a rack for steaming or roasting, and a wooden spoon. The pot itself has an integrated pour spout. Unlike the Always Pan, which has an all-metal steamer, the Perfect Pot's metal steaming rack has legs encased in silicone so it won't scratch the nonstick surface. Nice improvement.
The first thing you notice about the Perfect Pot itself is that it's super lightweight. At just under 5 pounds, it's a fraction of the heft of the cast-iron Dutch ovens in our ratings, which range from 7.3 to 15.1 pounds. Add the weight of the food inside, and getting a Dutch oven in and out of the oven can be a heavy lift. I know because I just roasted a 5-pound chicken in my oval Le Creuset. Totaling more than 17 pounds, that was quite a workout. Cooking with the Perfect Pot demands considerably less upper-body strength.
Impressions From the Lab
Our lab technicians agree that the Perfect Pot is easy to clean and gave it a score of Excellent in that test, which is on a par with our top Dutch ovens. And it excelled in other ways. "It was particularly good at sauce simmering and cooking evenness, compared with the cast-iron Dutch ovens we've tested," says Tara Casaregola, who oversees our cookware tests.
All in all the Perfect Pot earned the highest overall score of all the pans we tested as Dutch ovens. In fact, this pot earned an Excellent score on the cooking evenness, sauce simmering, and speed of heating tests. It was also aces at baking bread (shown below)—giving it top-notch scores across the board.
Still, it's something of an anomaly—not a traditional Dutch oven, not a plain old stockpot. Not only is it made of a different material but it's only oven-safe to 425° F compared with the enameled cast-iron Dutch ovens we test, which can withstand oven temperatures of 500° to 600° F.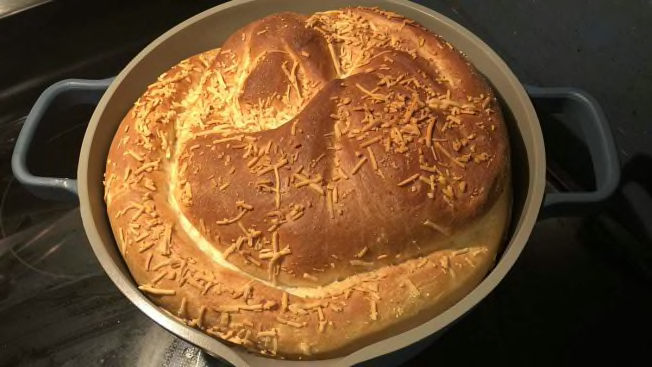 A bread made in the Perfect Pot.
Photo: Mary Farrell/Consumer Reports
Let the Cooking Begin
Soup seemed like a good first effort, so I made split pea soup with smoked ham. I've been making this for years, so I didn't follow a recipe, but it involves starting with browning the mirepoix (sauteed onions, celery, and carrots). As with the Always Pan, the veggies didn't caramelize as well as they do in my stainless steel soup pot. After I added the ham, broth, and split peas and cooked it for a few hours on the stove, it came out fine. But caramelizing the vegetables would have given the soup a deeper flavor.
Next on the menu was creamed spinach. I used the steamer to cook the spinach, then set it aside to make the cream sauce (butter, flour, milk, and a little cream cheese) before mixing it all back together. The nonstick surface was a real plus here.
Over the next few weeks, we precooked potatoes for one recipe (potato and chorizo tacos) and made a lot of pasta for others, like mac and cheese and bolognese. Because it's lightweight and has a strainer in the lid, draining the pasta water was practically effortless—although I did need thick potholders because the handles get really hot, even when you're cooking on the stovetop.
On to the braising! Usually, when I braise meat, I sear it in a Dutch oven on the stovetop, remove it to a plate so I can caramelize the onions, then put the meat back in and add the other ingredients—tomatoes or whatever your recipe calls for. Then I move the Dutch oven to the oven and cook it low and slow at 325° F.
I made pork vindaloo in the Perfect Pot, but when I seared the meat it didn't develop the fond (those delicious brown bits) that you get in a Dutch oven or an uncoated pan. I added the spices, tamarind, and broth, and cooked it in the oven for a few hours. But because the lid is not as air-tight as that of a Dutch oven, I had to keep checking the liquid level. In the end, my vindaloo lacked the color of one with well-browned meat, but was tasty nonetheless.
To test bread baking in the labs, our engineers use loaves of frozen bread dough from the supermarket (for consistency) and cook it per the directions on the package at 375° F. I don't bake bread (or should I say I've never successfully baked a yeast bread) but gave the frozen loaves a try at home in the Perfect Pot. I combined two loaves to fill the pot, so the dough would fill the pot after rising, and baked it until it was nice and golden (as you can see in the photo).
That gave me the courage to make my own yeast bread. I found a recipe for a fruit-filled Irish sweet bread (Barmbrack) that bakes at 350° F. And I must admit it was pretty, pretty good. Got nice and crusty around the edges with a soft interior.
If you're a baker, keep in mind that the Perfect Pot's maximum oven temperature is 425° F. Some breads, like no-knead breads, require a higher temperature of up to 500° F, which the Perfect Pot can't tolerate. (A Dutch oven can.)
The Bottom Line
On the plus side, the Perfect Pot is lightweight, heats up water quickly and is a cinch to clean—even after I made a thick, tomatoey bolognese. On the minus side, it's not so great at browning meat or veggies: typical of nonstick cookware, it won't deliver that golden caramelization or luscious fond you can achieve with heavier pots. So think about the requirements of your favorite dishes before you hit that "continue to checkout" button. 
 Despite its merits and Our Place's claims, there are other pots its size that, in my experience, are more versatile and more appropriate than the Perfect Pot for certain cooking tasks. A cast-iron Dutch oven, for example, is better for browning and braising meat, and when you make soup in a stainless stockpot, you can brown the meat and caramelize the onions and vegetables in the same pot, adding layers of flavor.
 But if you don't cook those things, the Perfect Pot could be a good—if not perfect—primary pot for you. If that's the case, consider the cost: You can buy a Dutch oven for a lot more, or a lot less (the ones we test range in price from $60 to $340). To consider these other options, check out our ratings for Dutch ovens and nonstick and stainless steel cookware sets, which include stockpots that can often be purchased separately and that perform many of the same tasks as the Perfect Pot at a much lower price. After weeks of using it in my kitchen, I can say that this pot, for all its virtues, is a less-than-perfect fit for my cooking style. Only you can say how perfect a match it might be for yours.
While the Perfect Pot is not included in our ratings, it is available from Our Place.
Consumer Reports is an independent, nonprofit organization that works side by side with consumers to create a fairer, safer, and healthier world. CR does not endorse products or services, and does not accept advertising. Copyright © 2022, Consumer Reports, Inc.