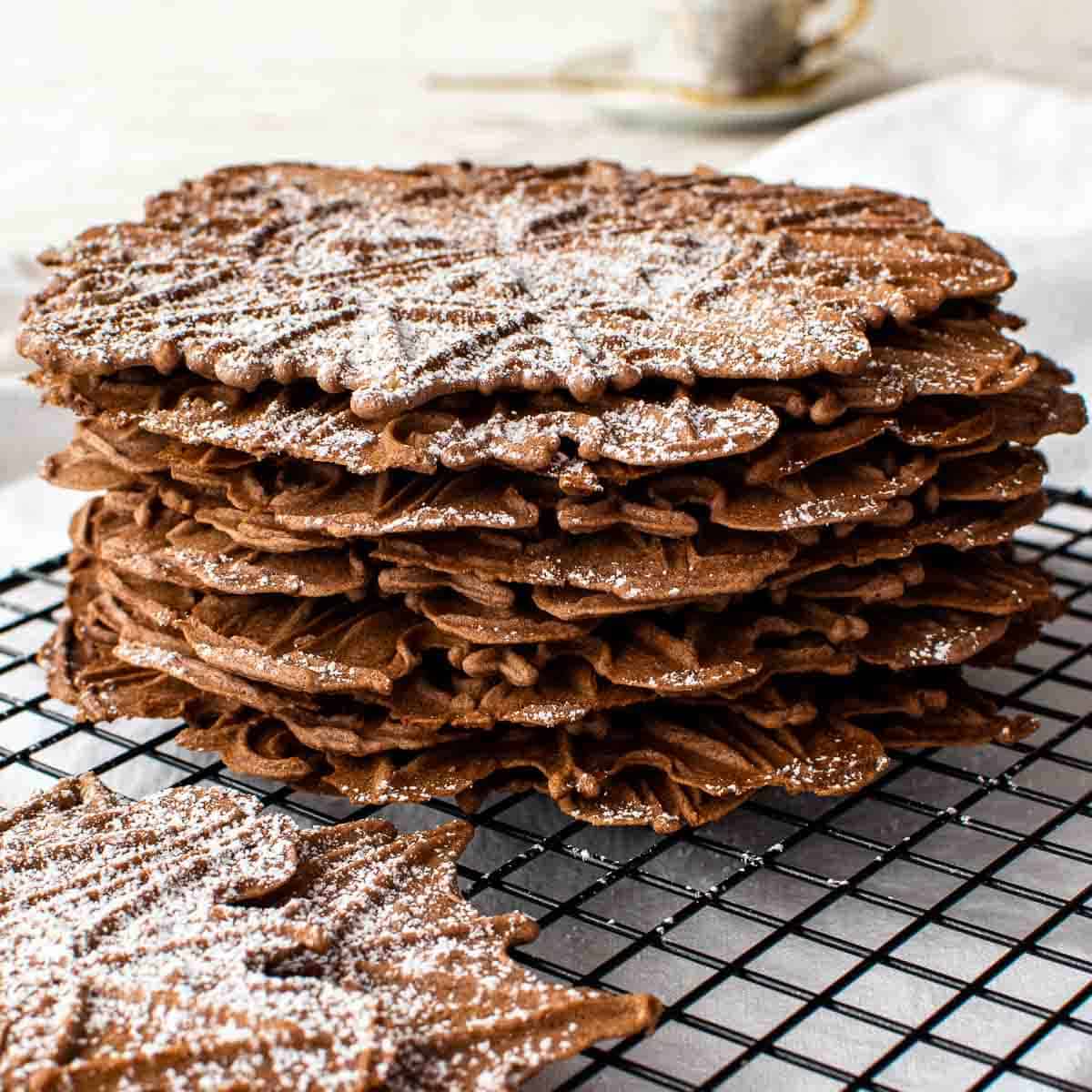 These Chocolate Pizzelle cookies are crispy and delicate with just the right amount of chocolate flavor!
Making these traditional Italian waffle cookies is super easy and this recipe uses basic pantry ingredients to avoid any hassles!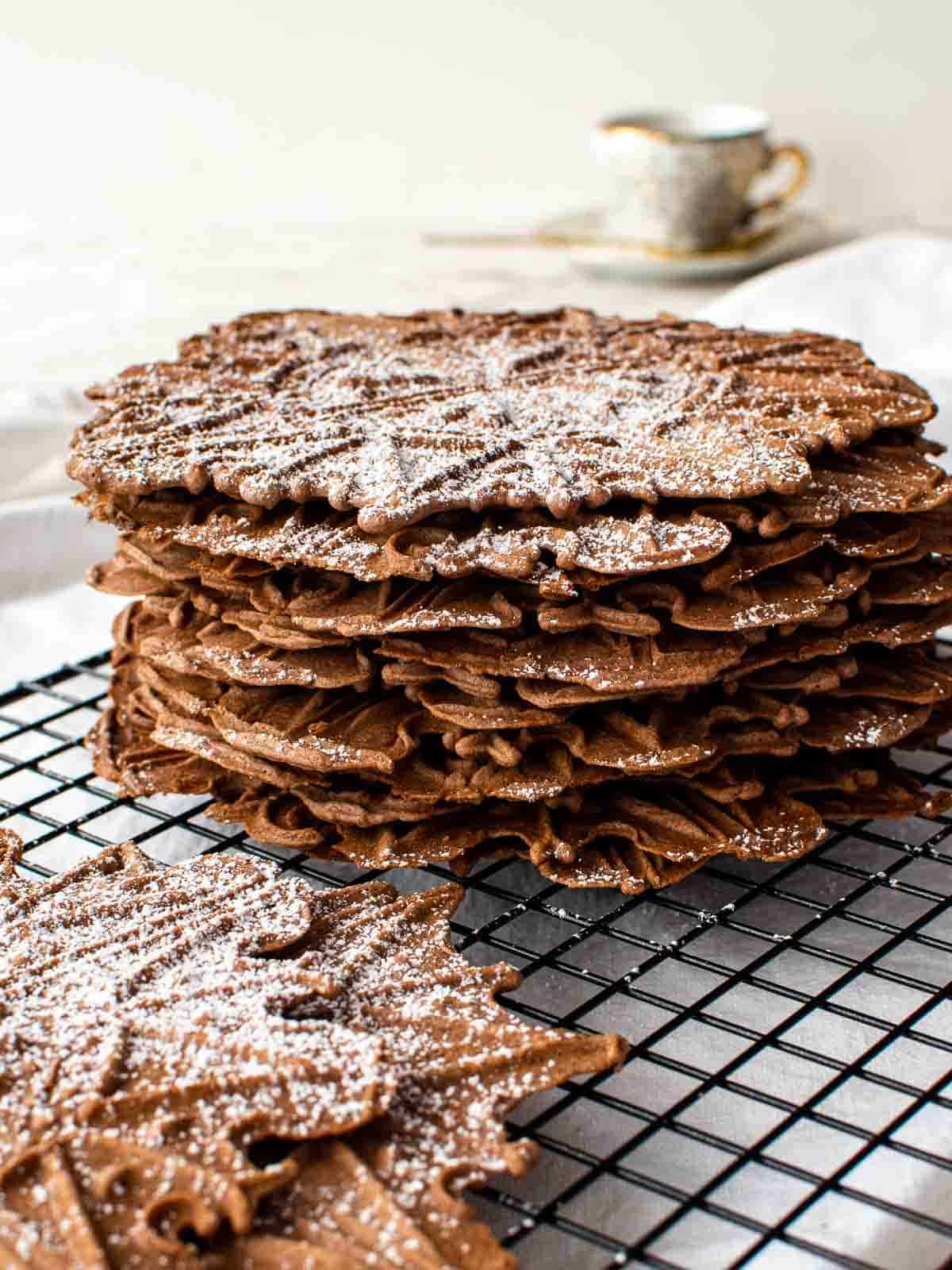 Why you'll love this recipe
Pizzelle are often seen as Christmas cookies but what's great about these chocolate pizzelle cookies is that they're perfect for any holiday! Whether it's Easter, Valentine's Day, Mother's or Father's Day, a platter of these cookies will be perfect!
In December, I love to make Gingerbread Pizzelle but these Chocolate pizzelle, just like the Lemon pizzelle are made year round in my home! 
A pizzelle iron is essential for making these delightful cookies but I assure you, you will not regret the purchase. Pizzelle makers (which are a bit like a waffle iron) come in various styles - both electric and a traditional stove top version.
I have two electric pizzelle irons that are both made in Italy and make large 6 inch (15 cm) pizzelle which are snapped into four smaller cookies. The cooking plate is steel as opposed to non-stick and is a breeze to work with. The surface becomes seasoned with use. I never have a problem with sticking and the pizzelle are always crisp! But you might find a non-stick iron is your preference.
The versatility of chocolate pizzelle cookies is what I love the most. Right after cooking, these cookies are soft and can be shaped easily. Hot off the pizzelle press, roll a cookie around a dowel for a quick cannoli. Or drape over an upturned glass to form a cup to be filled with ice cream or cream. Equally good is to shape them into an ice cream cone - the kids love these!
This is a homemade pizzelle recipe that always turns out crispy and delicious! While I'm never opposed to butter, I prefer a pizzelle recipe with oil for this reason and also because these pizzelle cookies keep much better. Of course, you can substitute the oil for butter. Just check out my tips below.
Set aside half an hour in the kitchen to make these cookies. Chocolate pizzelle cook rather quickly and can turn from pale to burnt in what seems to be just a second. Make good use of your time by having a pot of Ragu Spaghetti Sauce bubbling away on the stove. It'll just need a stir from time to time.
For complete ingredient quantities and full instructions, please scroll to the printable recipe card bottom of the page.
Ingredients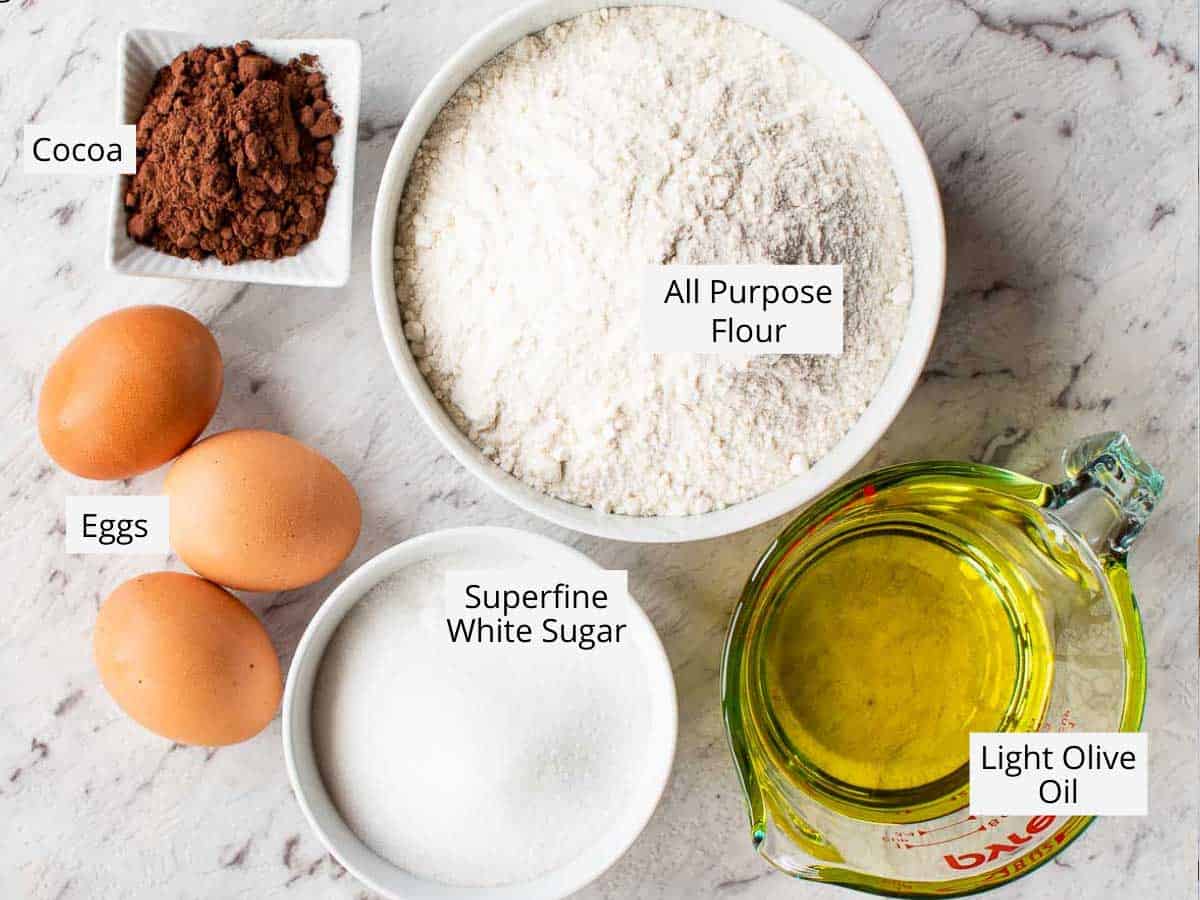 Eggs - I prefer to use large, free range eggs but use whatever you have.
Superfine White Sugar - The wonderful thing about superfine sugar is how quickly it dissolves but if using regular white sugar is fine.
Light Olive Oil - Olive oil is my preference because these chocolate pizzelle are much more crispy than those made with melted butter. However if you prefer using butter, check out my variations below. I have tried both variations and these chocolate pizzelle are delicious either way!
All Purpose Flour - That's "plain" not "self rising flour". If you aren't weighing the flour, please remember to stir before spooning the flour into the measuring cups. Check out my flour measuring tips below in "Tips for success".
Cocoa Powder - This is often quite clumpy so I always sieve cocoa powder before adding to any recipe.
Salt - Just a pinch complements chocolate so well!
Powdered Sugar - I can't help it - the Italian in me wants to dust everything in powdered sugar! If you'd rather not, then I'll leave that up to you.
Variations
Substitute light olive oil with ½ cup unsalted butter that has been melted and be sure that it has cooled.
Add a teaspoon of vanilla extract.
A teaspoon or so of finely grated orange zest is delicious for chocolate orange pizzelle.
For mocha pizzelle, stir in a teaspoon of instant coffee powder that has been dissolved in 2 teaspoons of warm water. You shouldn't need to add any more flour in this case, but if it becomes too thin, it's easy to stir in a teaspoon or two of flour.
Make a batch of this chocolate batter and one of my Lemon Pizzelle to make a two-toned pizzelle. Simply place ½ tablespoon of each batter onto the preheated pizzelle press and cook according to manufacture's instructions.
Instructions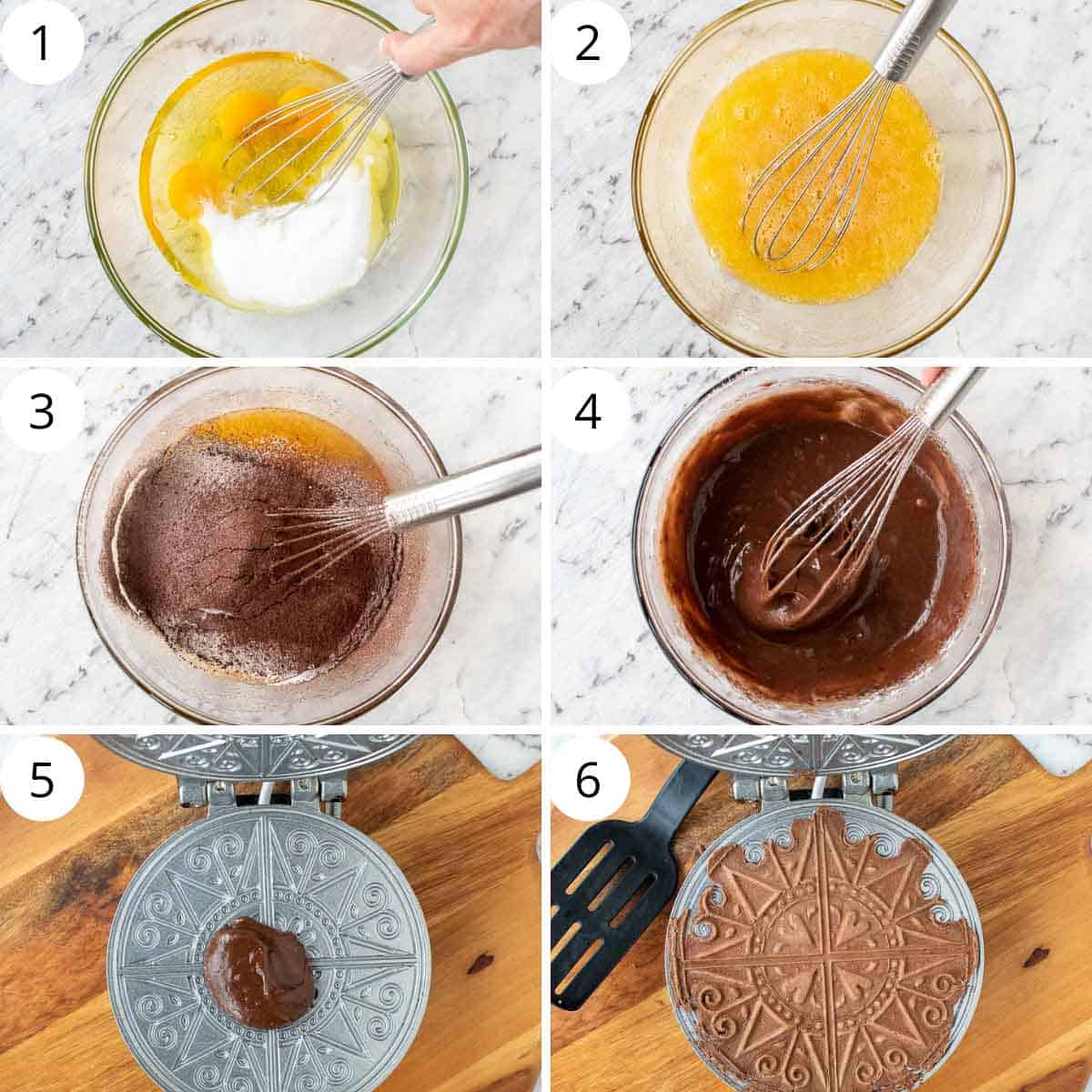 If you are using a pizzelle machine for the first time, please be sure to read the manufacturer's instructions before commencing. Preheat and grease or oil as specified in the instructions. 
This is a super easy recipe and you won't be needing anything more than a bowl and whisk to mix. There is absolutely no need to beat the eggs and sugar to incorporate air because we'll be squashing the batter in the pizzelle iron. Simple combine and cook!
Break eggs into a bowl and add the sugar and oil.
Beat with a whisk to combine thoroughly.
Sieve all purpose plain flour, cocoa powder and salt directly onto egg mixture.
Stir well to combine the wet and dry ingredients thoroughly.
Place a spoonful of batter in the center of the hot pizzelle iron. Actually I like to place the batter slightly off center, towards the back.
Close the pizzelle iron and press to squash the batter. Cook the chocolate pizzelle batter according to instructions supplied with your pizzelle iron. Generally when the hissing stops the cookies are done.
Transfer to a wire rack to cool completely. Don't pile these chocolate pizzelles on top of each other until thoroughly cooled. If you like (and I do like!) dust with powdered sugar. Store in an airtight container lined with baking paper.
Tips for Success and FAQ's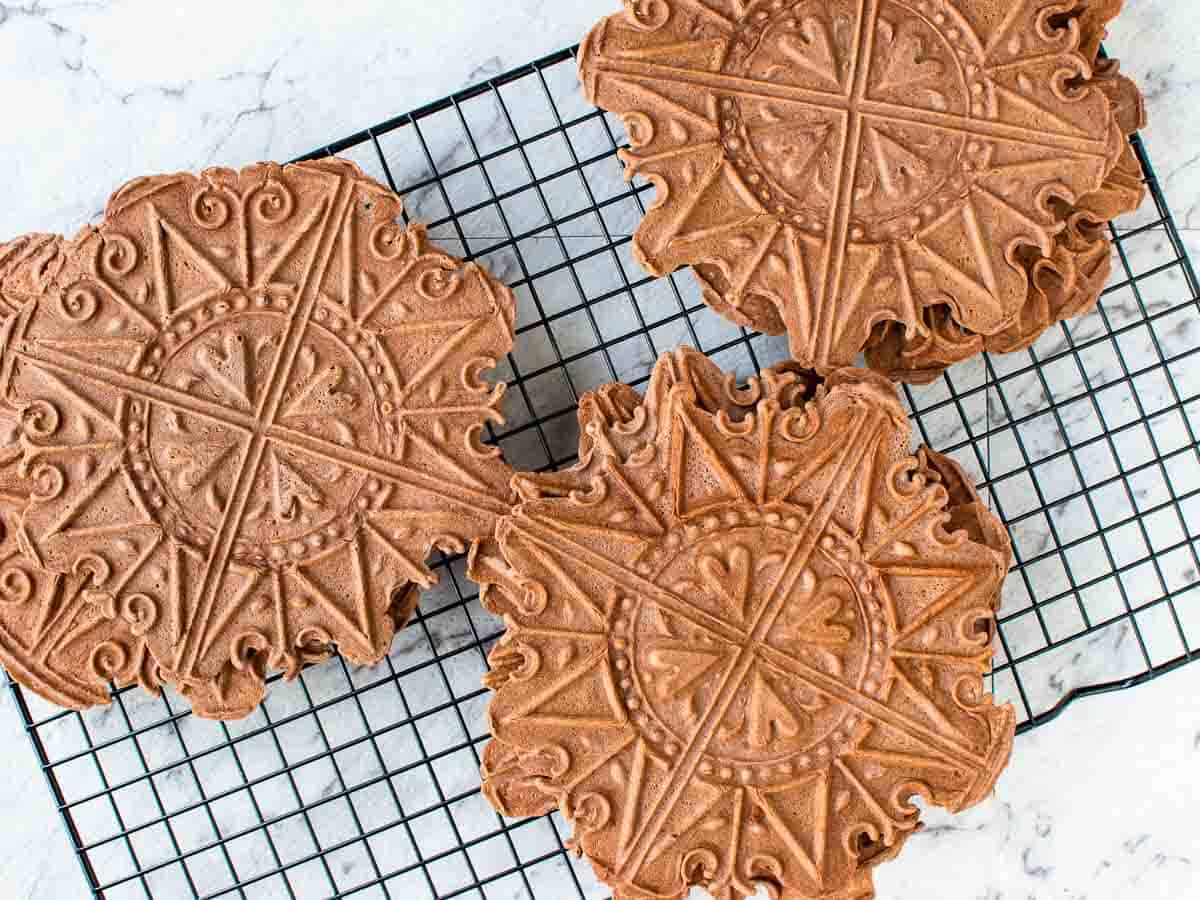 While some recipes use a couple of teaspoons of baking powder, I have tested this recipe with and without and found very little difference. Also, my preference is for thin and crispy chocolate pizzelle so I hold the pizzelle press down a little longer.
It's important to preheat the pizzelle iron very well before you attempt to cook the first pizzella. You may also need to oil or grease the plates. I use a paper towel dipped in a little olive oil to wipe the plates before heating the pizzelle maker. But this only needs to be done at the beginning. During cooking the oil in the pizzelle naturally greases the plates. 
The batter should be thick like softly whipped cream. If it's too runny, the cookies could be soft. When cooking, chocolate pizzelle batter hisses and steam is released which results in crispy pizzelle cookies. If there is too much moisture not enough steam can be released and this means limp chocolate pizzelle. And that's not ideal!
What is the best pizzelle recipe?
In my experience, pizzelle recipes with oil create the most crispy cookies and keep the longest. This recipe makes a thick, almost pancake like batter rather than a dough which is the key to making thin, crisp pizzelle. So any of the recipes for pizzelle you'll find here are very good, if not, the best. 
Can you tell me how to clean a pizzelle iron?
All you need to do to clean a pizzelle iron is to wipe the cooking surface with paper or kitchen towel to absorb any oil left behind and wipe away cookie pieces that have stuck. If you have a non-stick surface, don't use metal utensils like knives or forks to dig out any cookie batter remains. However, with pizzelle makers that have a regular surface, you can use a knife or wire brush to clean out stuck cookies. Never submerge an electric pizzelle iron in water! When completely cooled, place a sheet of paper towel between the irons for storage.
What are some desserts made with pizzelle?
Pizzelle waffle cookies can be rolled around a dowel while warm to create a cannoli shape. Fill these with Italian pastry cream or mascarpone cream. Warm pizzells can also be draped over a cup to make an edible bowl that you can fill with ice cream. Actually, I can think of nothing better than sandwiching two cookies with a chocolate pizzelle filling such as Nutella!
What is the best way to store chocolate pizzelle?
You can store these in an airtight container lined with baking paper for up to a month with no problems. For longer storage, freeze for up to 3 months, packed in the same way.
More Recipes Like This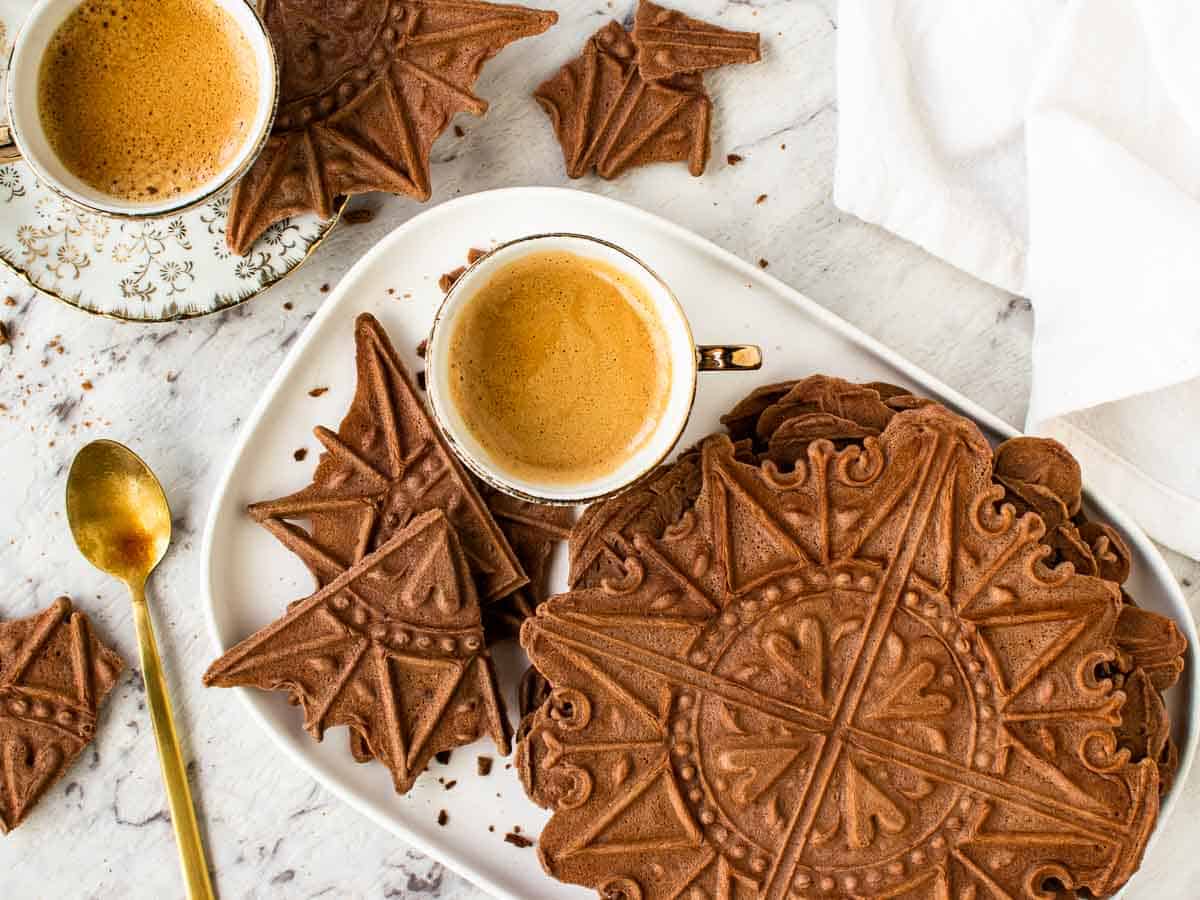 Crostoli - These are crispy, fried pastries that are popular during Carnevale and other holidays.
Almond Biscotti - Also known as cantuccini, this recipe is just like the ones you get in Italy!
Sponge Fingers - This is a tiramisu staple but these homemade ones are delicious just as they are.
Italian Chocolate Cookies - With an intense chocolate flavor, these tender cookies are crunchy with walnuts and look so pretty!
If you enjoyed this recipe, I'd really appreciate a star rating and a comment or tag me on instagram @marcellina.in.cucina.
Either way, I love to hear from you!
If you haven't yet subscribed to the newsletter, don't forget to click here so that you don't miss out on more delicious food, tips and news!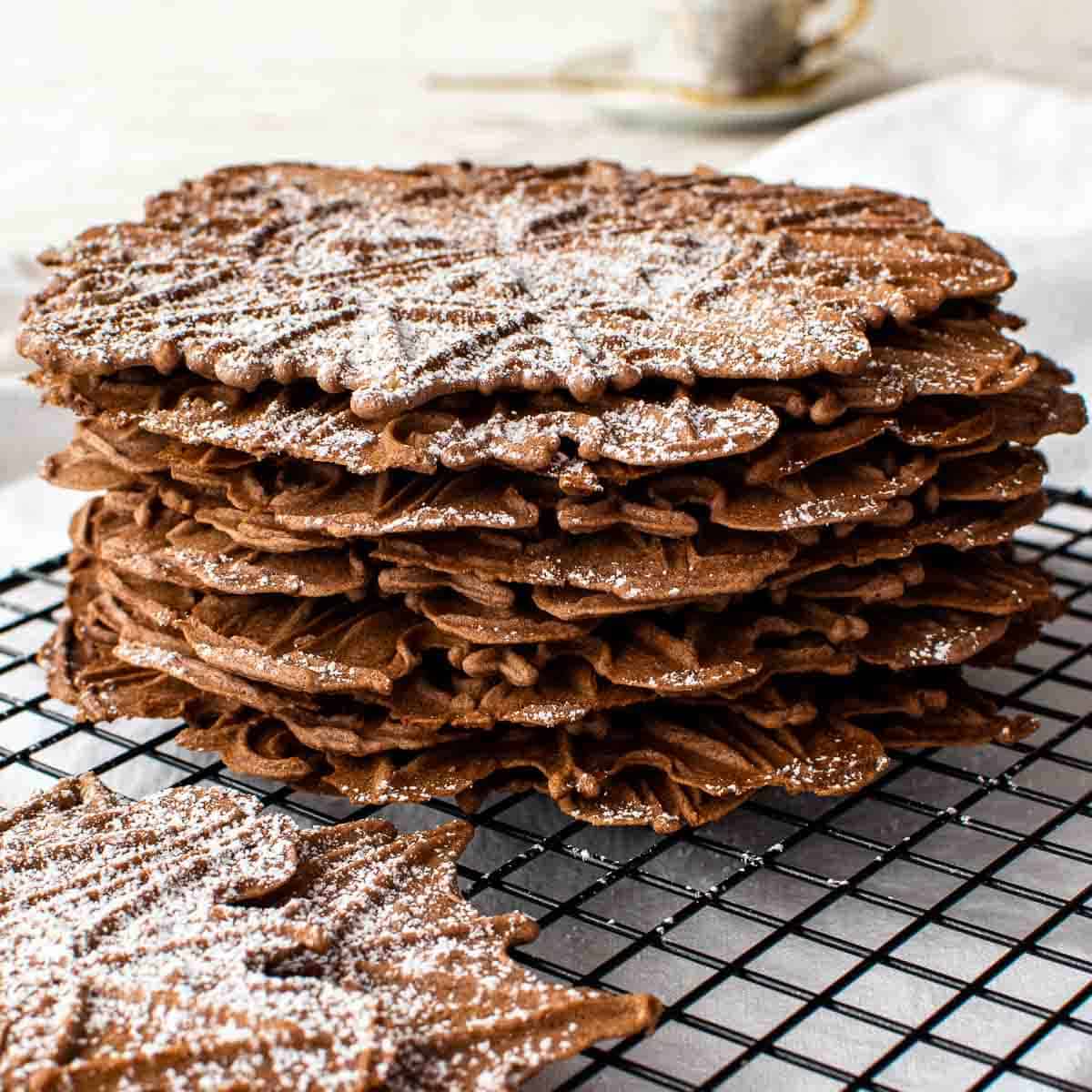 Print
Chocolate Pizzelle Recipe
These cookies are thin and crispy with a delicious chocolate flavor!
Servings
12
large (6in/15cm) cookies
Ingredients
3

eggs

⅔

cup

superfine white sugar

castor sugar

½

cup

olive oil

1½

cups

(200 grams) all purpose (plain) flour

2

tablespoons

cocoa powder

pinch

salt

powdered sugar for dusting
Instructions
Oil or grease the pizzelle iron and preheat according to manufacturer's instructions.

In a medium bowl lightly whisk together eggs, sugar and oil until combined.

Sieve all purpose plain flour, cocoa powder and salt directly onto egg mixture.

Stir well to combine the wet and dry ingredients thoroughly.

Cook the pizzelle batter according to instructions supplied with your pizzelle iron. When the hissing stops, this generally means they're done!

Allow to cool completely on a wire rack. Don't pile one on top of the other.

Dust with powdered sugar if desired.

Store in an airtight container that has been lined with baking paper.
Nutrition
Calories:
197
kcal
|
Carbohydrates:
24
g
|
Protein:
3
g
|
Fat:
10
g
|
Saturated Fat:
2
g
|
Polyunsaturated Fat:
1
g
|
Monounsaturated Fat:
7
g
|
Trans Fat:
1
g
|
Cholesterol:
41
mg
|
Sodium:
16
mg
|
Potassium:
45
mg
|
Fiber:
1
g
|
Sugar:
11
g
|
Vitamin A:
59
IU
|
Calcium:
10
mg
|
Iron:
1
mg
The post Chocolate Pizzelle appeared first on Marcellina In Cucina.