Learn how to make homemade blueberry jam with this easy recipe. You'll soon realize that to make the best blueberry jam, you only need three ingredients and no pectin, as long as you boil it to the jam setting point!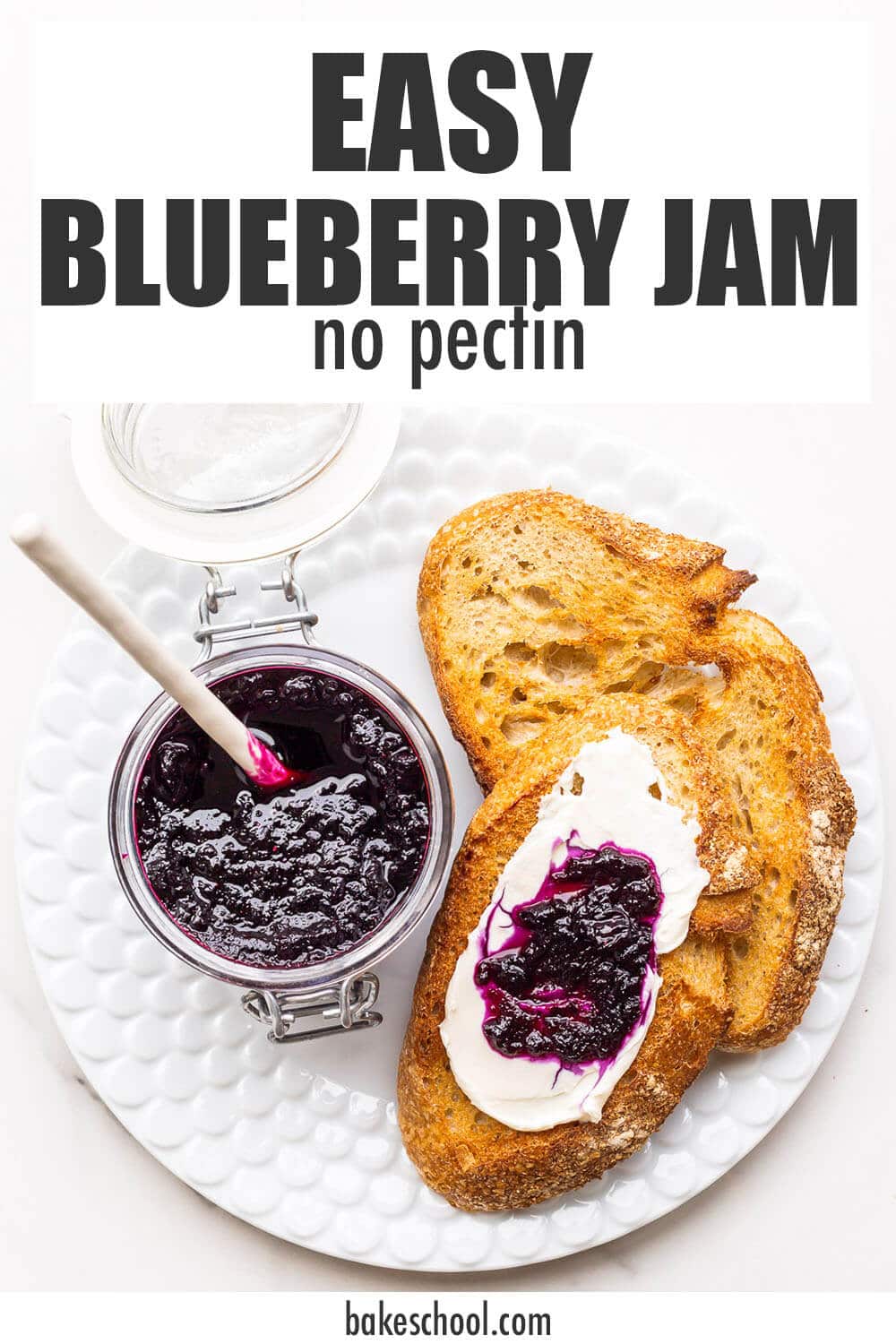 Ingredients to make the best blueberry jam
To make any jam at home, including blueberry jam, a lot of people are surprised that you don't need any special ingredients. The proof is this homemade blueberry jam only requires three ingredients to make:
Fresh blueberries, ideally a mixture of wild and farmed blueberries in season
Granulated sugar, but you can also go wild and try some alternative sugars, like brown sugar, or a combination of granulated sugar and honey or maple syrup.
Lemon juice, which helps ensure the perfect set, balances out the sugar, and also makes sure the pH of preserves is safe for canning.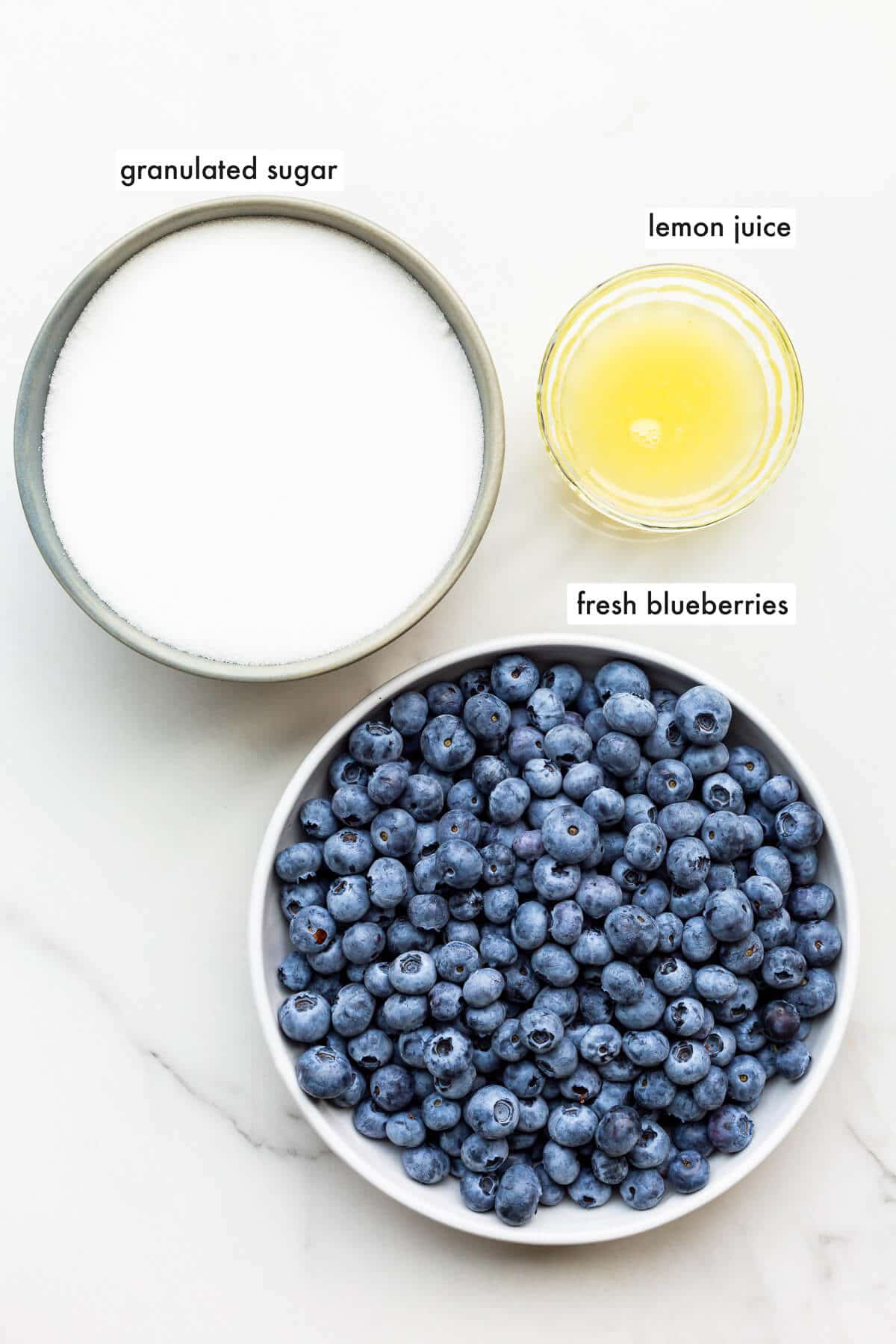 Ratio of fruit to sugar
You'll notice that we aren't using pectin in this recipe. Blueberries are quite high in pectin, especially when compared to other fruit used in jams, like rhubarb, which is very low in pectin.
The key to making preserves and jams that set properly without pectin is using the right ratio of fruit to sugar, and to boil the jam for long enough to evaporate the water. That evaporation concentrates the mixture, making it thicker, less fluid and thin.
For blueberry jam, I like to use a ratio of 2 parts fruit to 1 part sugar, by weight, so for 1 kilogram of prepared fruit, I use 500 grams of sugar. If you prefer to talk in percentages, 33 % of the total weight of ingredients is sugar and 67 % is fruit. There's also a quarter cup of lemon juice, and though lemon juice is an essential ingredient in homemade jams, the weight is pretty insignificant compared to the weight of sugar and fruit.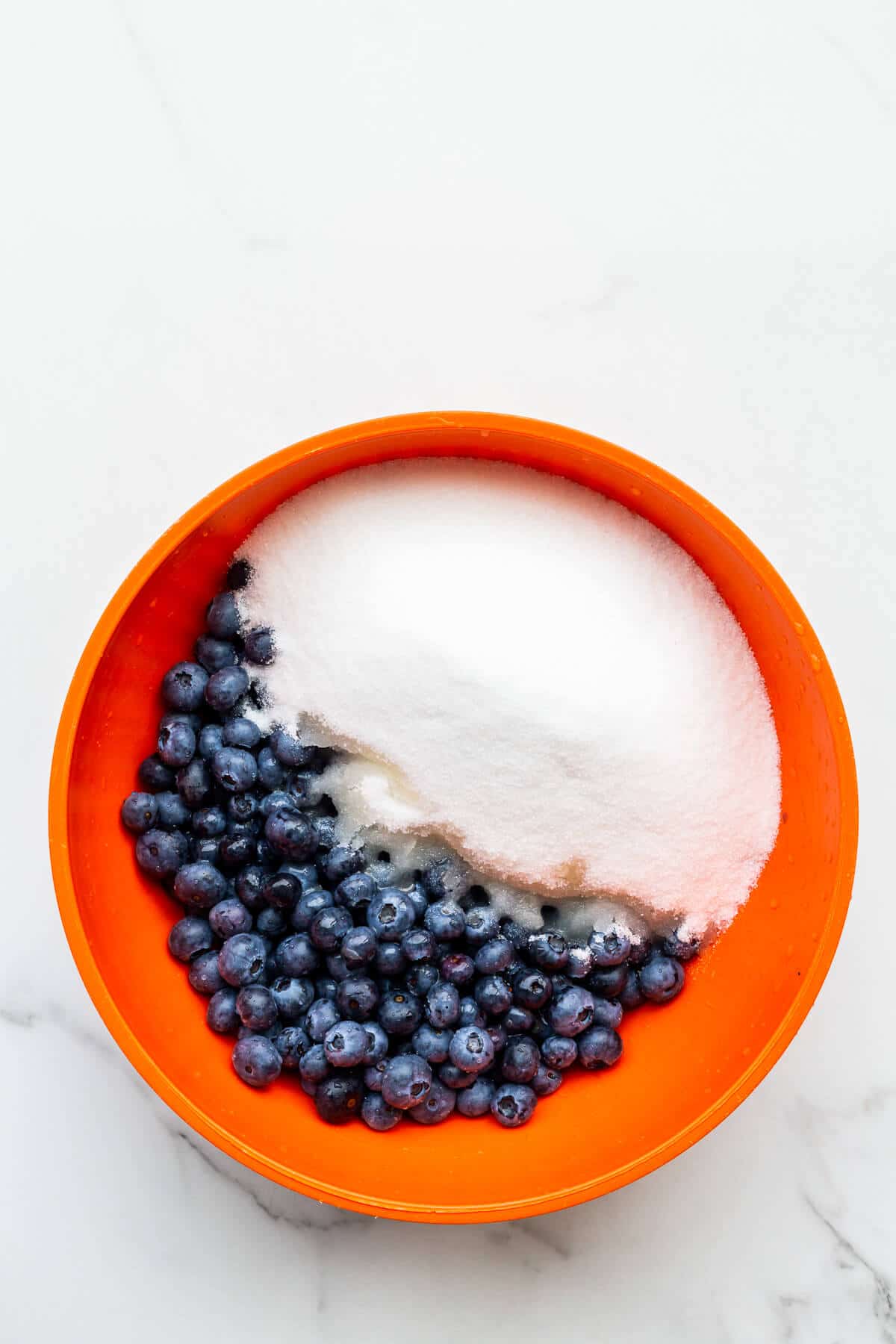 Key steps and techniques
Like with most jam recipes, the basic steps are all the same and you can use the same techniques to make blueberry jam at home:
Prepare the fruit. You may have to wash or clean the fruit, sorting through it to remove any stems or leaves, but also to remove any fruit that isn't looking good. Berries that are past their prime won't make better jam, contrary to popular belief.
Macerate the fruit with the sugar and lemon juice. Macerating helps the sugar dissolve, bringing some of the juices out of the fruit. Combined with heat, this step ensures that the pectin is released into the mixture, which will help ensure the perfect set.
Boil the fruit until the jam setting point. You'll notice in the blueberry jam recipe below, this is done in two stages

heat the mixture until the sugar dissolves, then remove a portion to blend it
boil the mixture until it reaches the jam setting point, around 102–103 ºC (or 215–217 ºF).

Seal the jars of blueberry jam, either by boiling the closed jars in boiling water for a full 10 minutes or by inverting the closed jars upside down for 3 minutes. For more information on canning, read this guide to home canning.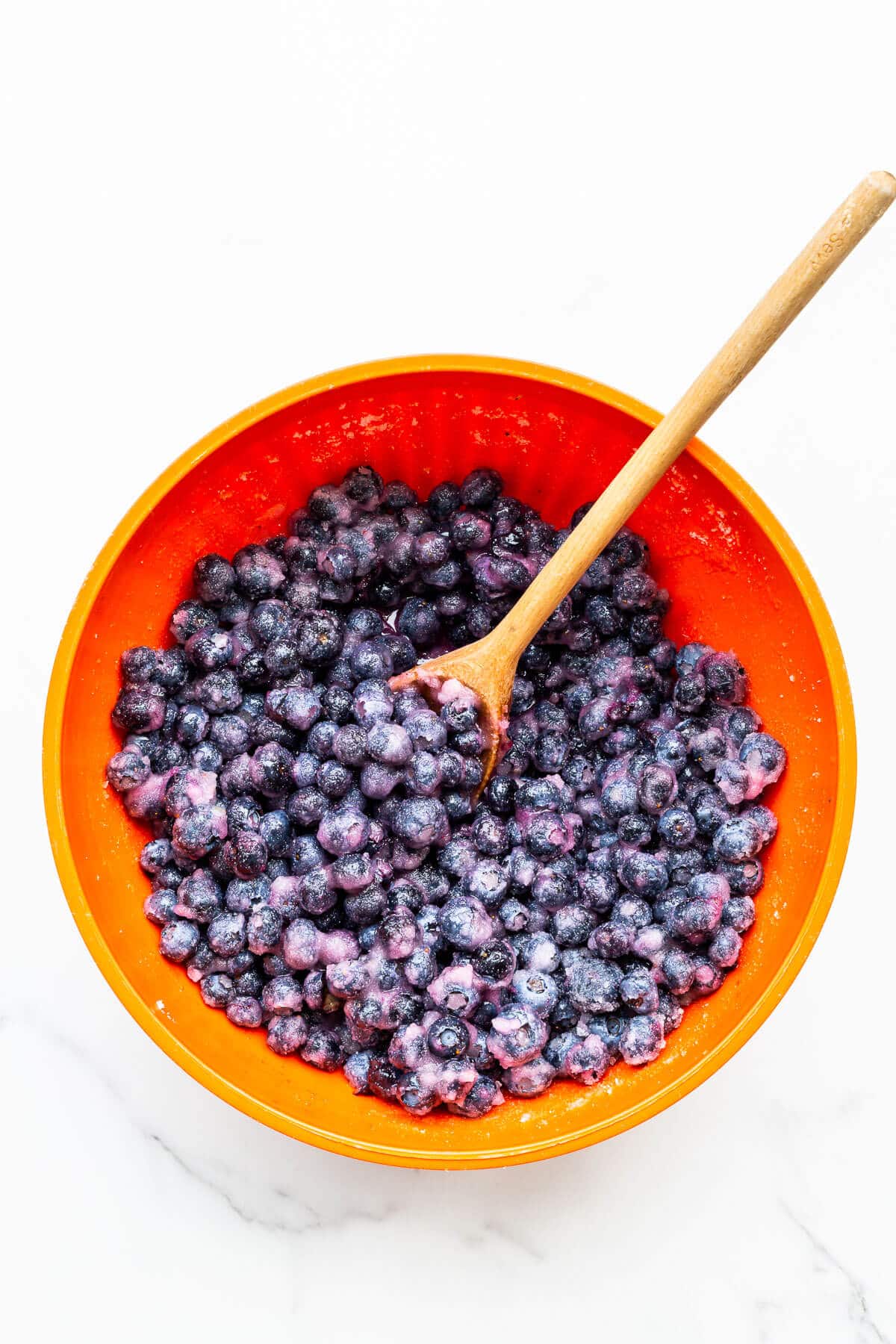 Ensuring the perfect set with the jam setting point
Have you ever made jam that is thin and runny, and seemingly lacking in flavour? It's likely you didn't boil the jam long enough to hit the jam setting point, the temperature where the jam has boiled for long enough that a good portion of the water has evaporated and the pectin can do its job of setting the jam texture so it's thick and not so fluid and liquid.
Remember fruit contains a lot of water. Blueberries are made up of over 80 % water, and once you heat the berries, the fruit burst and the water is released into the jam, making a very soupy preserve if you don't boil it for long enough.
With most jam recipes, it's hard to give a cooking time because some jams can take even an hour of boiling to achieve the perfect set. I boiled this batch of blueberry jam for 30 minutes, until it reached 103 ºC (217 ºF). I think I could have actually pushed it further and boiled it for longer, but I liked the taste and texture at this point so I proceeded to can it.
You could also boil a little less, to 102 ºC (215 ºF) but make sure that you let it boil to that temperature and make sure it stays there for long enough. Recall, this is the same for marmalade, which also has to be boiled to a certain temperature to achieve the marmalade setting point.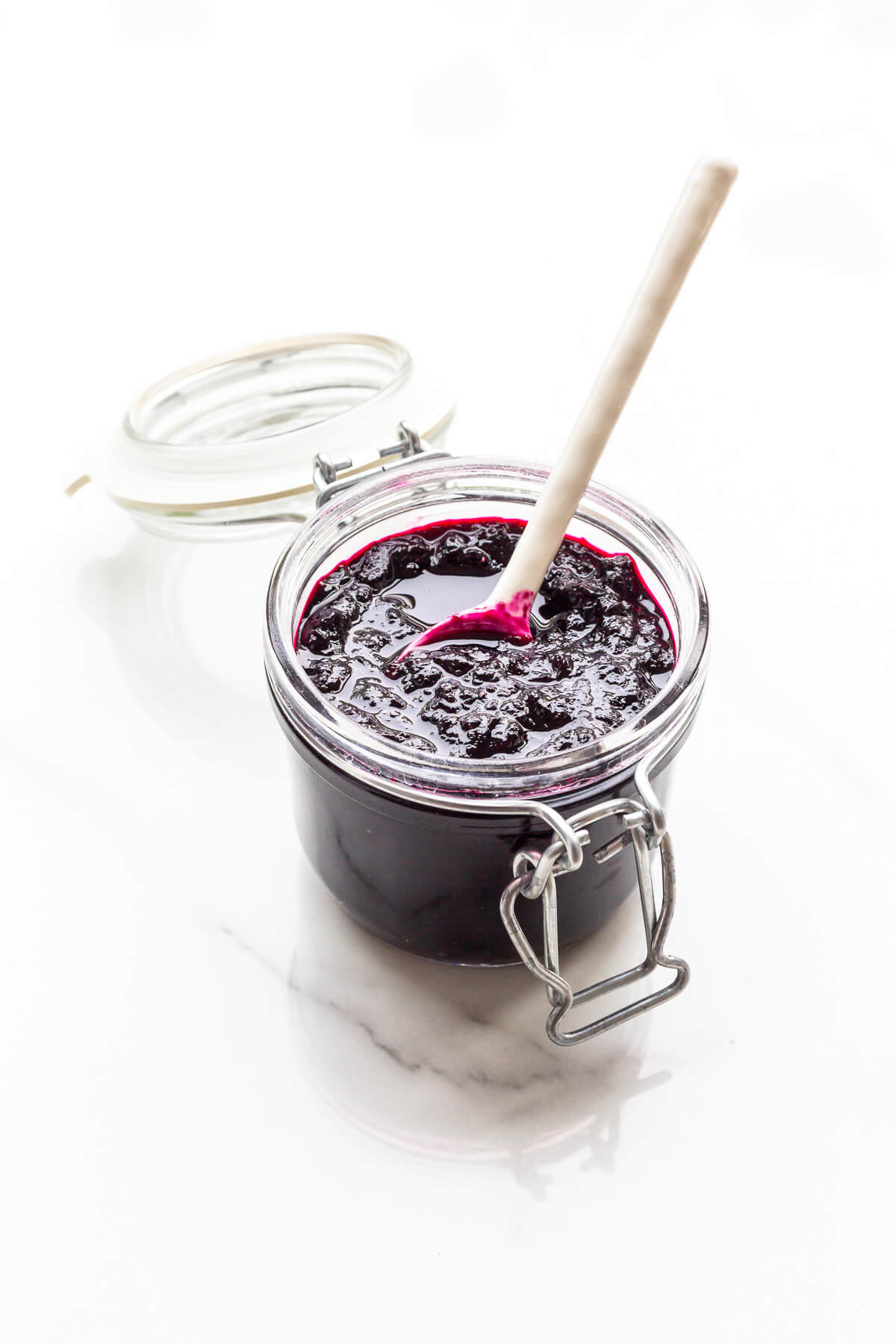 Special equipment for making jam at home
I highly recommend investing in a canning kit made up of the smaller tools you will need in order to properly seal your jars, including a magnet to transfer the clean lids to the jars to avoid contamination, as well as a headspace measuring tool to make it easier to verify that you are filling the jars correctly, and a non-reactive funnel that will help you fill the jars without spilling and without dirtying the edges (which would ruin the seal!).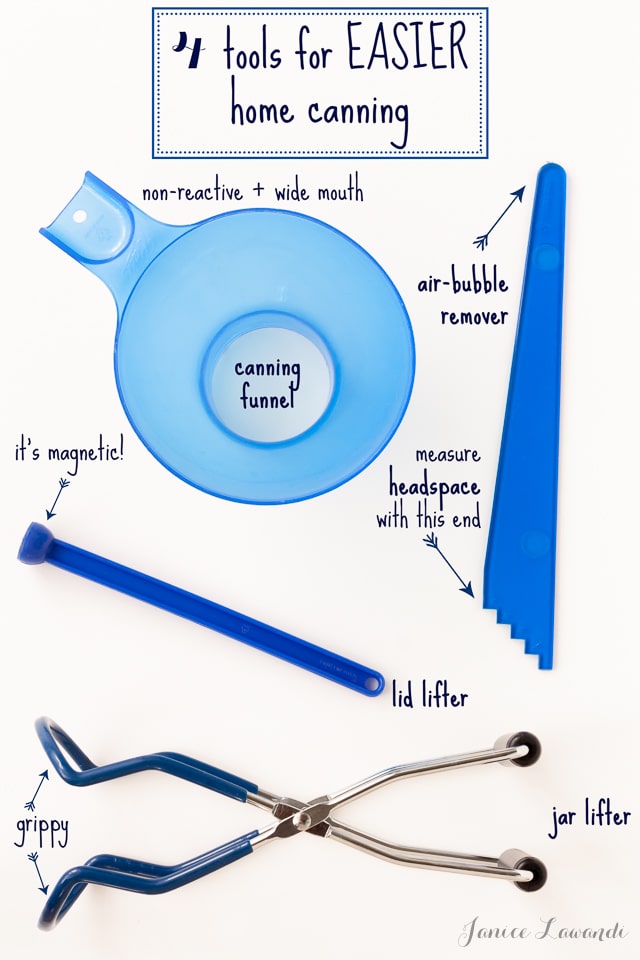 The kit should also come with jar lifters which are so helpful when moving the jars in and out of the water bath! You will also need a big pot preferably with a rack, like this one on Amazon, in order to boil the jars of marmalade for 10 minutes.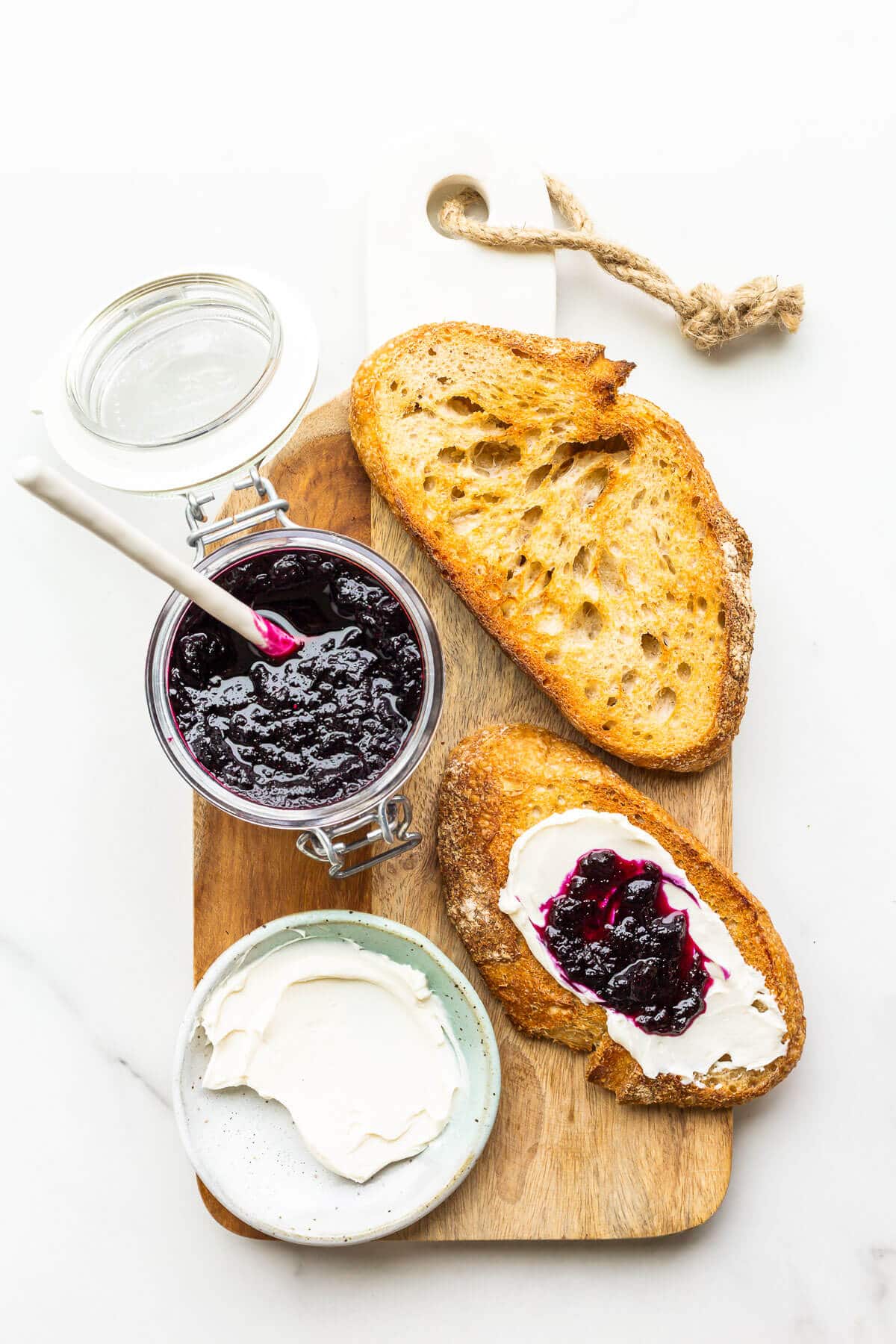 In order to achieve the perfect texture, it's very important to boil marmalade just enough so that it is thick, but not so much that the peel becomes chewy. A thermometer like a fast-reading Thermapen helps judge how far along you are in the cooking process and works perfectly with this recipe and method. The Thermapen is what I use. For a hands-free setup, a probe thermometer with a longer cable like the Thermoworks Dot would be better because then you don't have to hold it with your hands, which would be much less dangerous to use than my hand-held setup.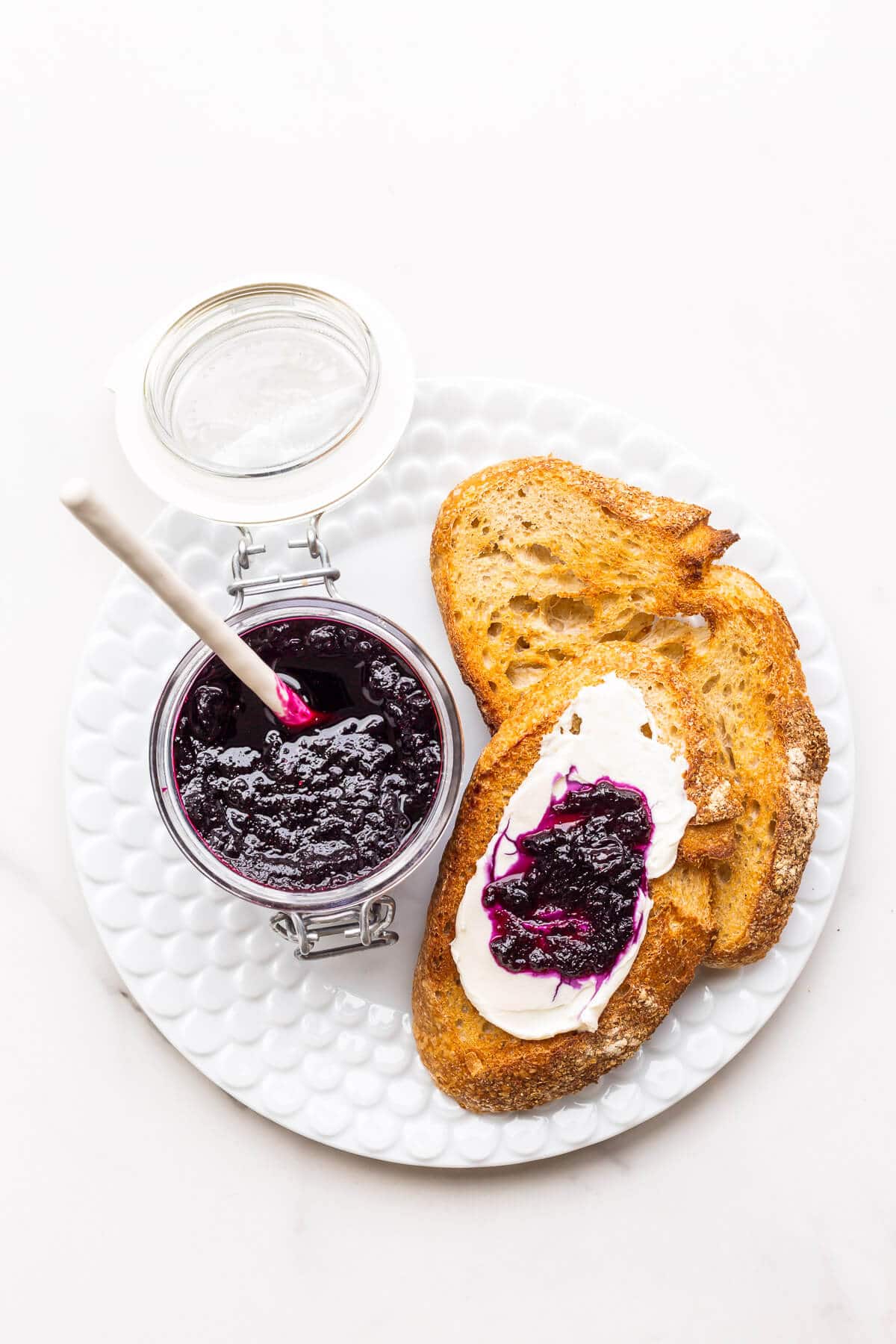 Frequently asked questions
Does blueberry jam need pectin?
No, you do not have to add pectin when you are making blueberry jam. The keys to achieving the perfect set are using ripe fruit (but not overly ripe) which naturally contain more pectin, the right amount of sugar (the weight of sugar should equal at least half the weight of the fruit for the jam to set), and the right cooking temperature (make sure to boil the jam until the jam setting point).
Why is my blueberry jam runny?
Once you've transferred your jam to jars, be sure to wait a full 24 hours before judging if your blueberry jam is runny or set. It takes a full 24 hours for the jam to cool down completely and for the pectin to gel properly. At this point, if you find your blueberry jam is runny, it means that you didn't use the right ratio of ingredients and/or didn't boil the jam for long enough and hard enough. The jam has to reach the jam setting point, which is around 102–103 ºC (215–217 ºF) in order to set properly when cooled.
If you find your blueberry jam is runny, you can open the jars and place all the jam back in a big pot to bring it back to a boil and to heat it for longer and until you reach the setting point. If you do this, you will have to clean the jars and go through the canning process again.
What to eat with blueberry jam
Blueberry jam is a little unusual in that most people immediately think of strawberry jam and orange marmalade when they think about homemade preserves. I'm here to tell you that blueberry jam is a real treat and very special because it has such a unique, delicate flavour.
If you've ever wondered what to use blueberry jam for, I highly recommend serving it on toast with cream cheese spread thick . Blueberry jam is also great with blue cheese or even goat cheese (if you are a fan). You can also serve blueberry jam with savoury meats, like pork (which is traditionally served with apple sauce).
You can also spoon it over ice cream, like over this cardamom ice cream!
Storage
If you seal the jars properly (by canning them in a boiling water bath for a full 10 minutes or using the inversion method), you can store the closed, sealed jars for a very long time. Most professional jam makers will recommend storing up to 1 year.
Once you open a jar of jam, it should be stored in the refrigerator. Always use a clean spoon or knife to dip into the jar and never double dip to avoid contaminating the jam. If you see mold develop, you compost it or throw it out.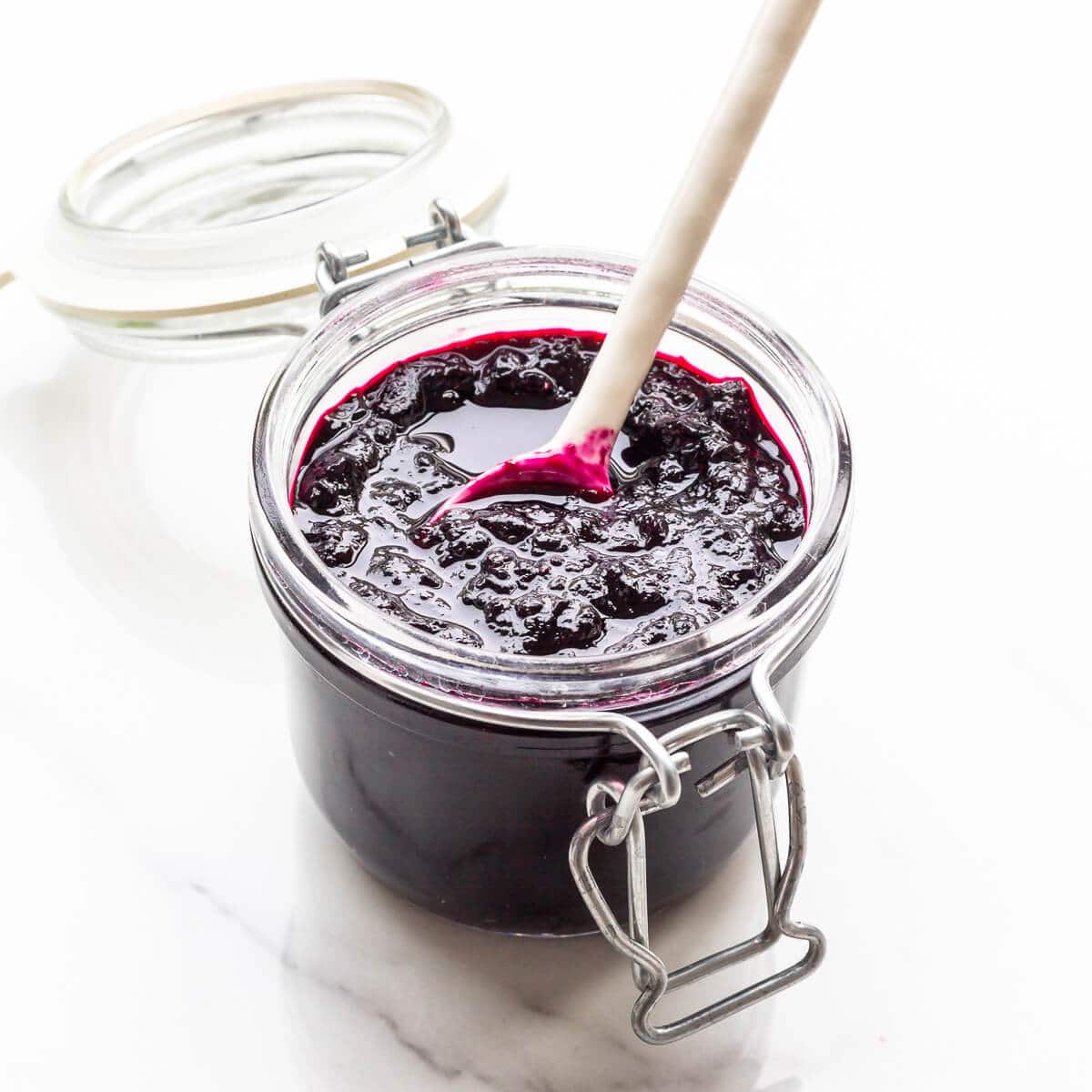 Print
Blueberry jam
Learn how to make this easy blueberry jam with just three ingredients and no pectin! It's boiled to the jam setting point to ensure the perfect set.
Maceration time
30
minutes
Total Time
1
hour
20
minutes
Equipment
Big pot

Canning kit

Mason jars

Wood spoon
Ingredients
1.2

kg

fresh blueberries

washed and picked over to remove any stems

600

grams

granulated sugar

60

mL

fresh lemon juice
Instructions
Mix the berries with the sugar, lemon juice in a large non-reactive pot or a large bowl.

Cover the mixture and let the berries macerate for at least 30 minutes. Stir every so often to help the sugar dissolve. You can also leave them to macerate in the fridge overnight to make jam the next day.

Place the pot with the macerated berries on the stove, uncovered and

Once the sugar is completely dissolved, turn off the stove and take the pot off the burner.

Ladle a third of the jam mixture into a blender jar, cover partly, then blend until smooth. Transfer the blended mixture back to the pot.

Bring the mixture to a boil, stirring with a wooden spoon to help distribute the heat.

When the jam comes to a boil, continue cooking it until it hits the jam setting point, around 102-103 ºC (215–217 ºF).

Remove from the pot from heat. Let stand 2 minutes then stir well to distribute the fruit.

Divide the jam among the jars, leaving a ¼ inch headspace. Remove air bubbles, wipe the rims clean, then cover with the lids, fingertight. If any of the jars aren't filled full, don't seal them. Instead you can cover them and enjoy them right away, storing in the fridge.

Seal the closed jars according to the manufacturers recommendations using a water bath canning kit. I used Bernardin jars and I boiled my jam jars for 10 minutes to seal them.

Remove from the canner. Let sit 24 hours undisturbed before storing them in the pantry.
Notes
This recipe makes 4–5 small jars (of 250 mL  (1 cup) each)
Make sure to sterilize your jars by washing them well and then heating them on a sheet pan in the oven at 250 ºF for at least 30 minutes. Ladle the hot jam into the hot jars.
Nutrition
Calories:
38
kcal
|
Carbohydrates:
10
g
|
Protein:
1
g
|
Fat:
1
g
|
Saturated Fat:
1
g
|
Polyunsaturated Fat:
1
g
|
Monounsaturated Fat:
1
g
|
Sodium:
1
mg
|
Potassium:
12
mg
|
Fiber:
1
g
|
Sugar:
9
g
|
Vitamin A:
8
IU
|
Vitamin C:
2
mg
|
Calcium:
1
mg
|
Iron:
1
mg
The post Blueberry jam appeared first on The Bake School.