Ive been wanting to make some donuts again for a good long while now, and while the day ahead is going to be crazy busy - I took the time this morning to whip up these delicious Baked Strawberry Donuts! To really back in the strawberry goodness, I took out all the stops. The cake part of the donut has a homemade strawberry puree mixed right in. And the frosting? Ooooh the frosting.
The frosting is made with freeze-dried strawberries and is LOADED with strawberry flavor. The secret is in the dried strawberries, I swear! I decided to finish the donuts off with some sweet little heart shaped sprinkles annnd as you can see, theyre pretty damn cute!
To lighten these donuts up and make them more health conscious, I used a whole wheat white flour and subbed out sugar for an all natural sweetener. I also made my own strawberry puree in just a few minutes time to load the batter of the donuts up with as much strawberry goodness as I could manage.
Other than that, these are standard baked donuts with just a few minor adjustments.
I can honestly say that I wasnt ashamed at all to eat 2 - yes TWO of these donuts for breakfast this morning with a giant bowl of fruit on the side.
I used a heart shaped donut pan to make these and I ended up with 9 donuts in all, but a different shaped or sized pan may yield you a different amount. The heart shaped pan is my favorite one, and I thought the heart shaped sprinkles went well with it for a nod to Valentines Day as it nears!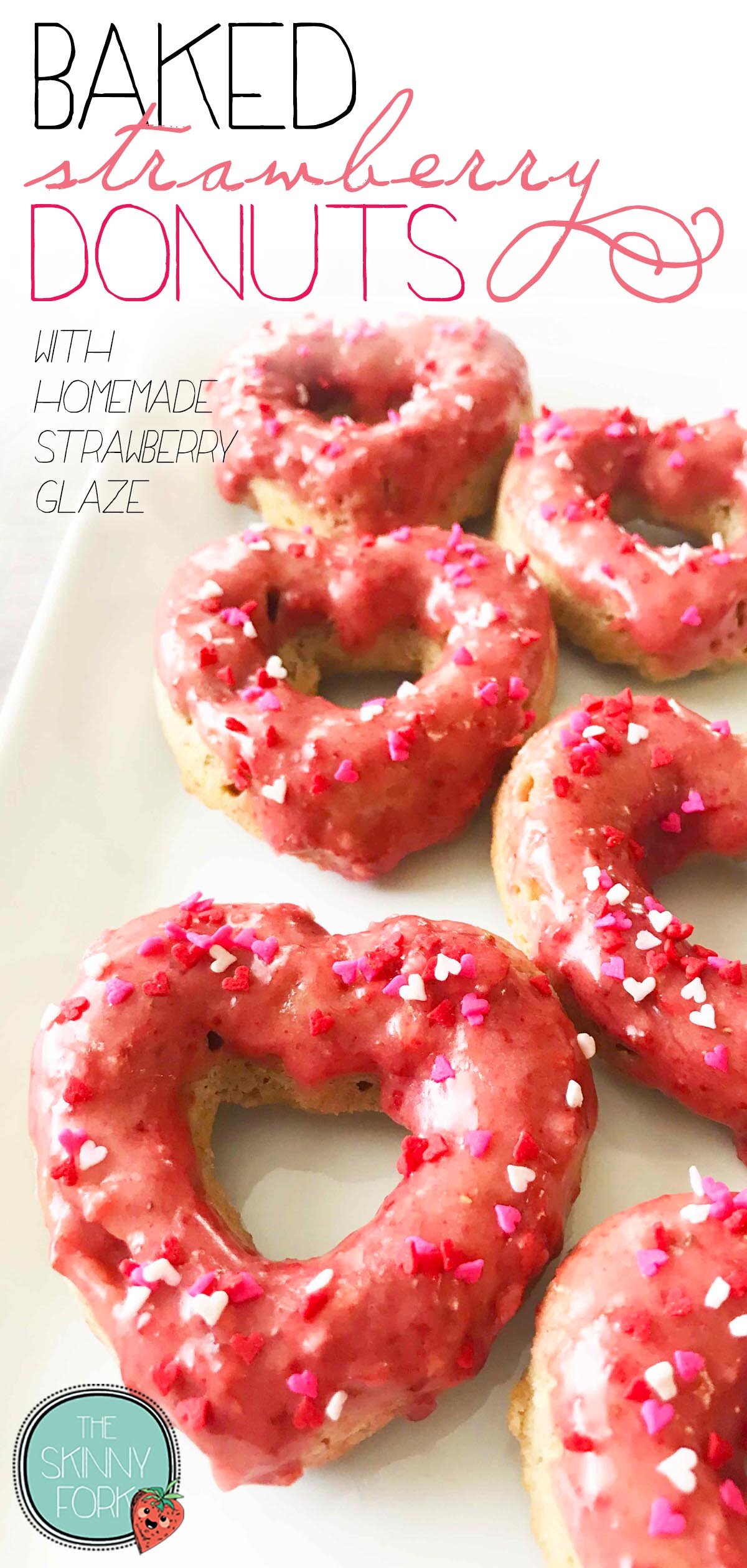 Baked Strawberry Donuts
TheSkinnyFork.com
Delicious baked strawberry cake donuts that are topped off with a homemade strawberry frosting that is OUT OF THIS WORLD. And with well under 100 calories in 1 whole donut? Enjoy them guilt-free!
Prep Time:
10 Minutes
Cook Time:
20 Minutes
The Skinny:
Servings:
Serving Size: 1 Donut
Calories: 81
Fat: 2 g
Saturated Fat: 1 g
Carb: 43 g
Fiber: 1 g
Protein: 3 g
Sugar: 1 g
Sodium: 53 mg
Ingredients:
Donuts:
1/4 Lb. Strawberries
1 C. Whole Wheat White Flour
6 Tbsp. Natural Sweetner
1 Tsp. Baking Powder
2 Tbsp. Plain Fat Free Greek Yogurt
1 Whole Large Egg
2 Tbsp. Unsweetened Almond Milk
1 Tbsp. Melted Unsalted Butter
1/2 Tsp. Vanilla Extract
Frosting:
1 C. Confectioners' Sugar Replacement
1/2 C. Freeze Dried Strawberries
1 Tbsp. Unsweetened Almond Milk
Directions:
Place the 1/4 Lb. strawberries into a small sauce pot and heat over medium-high heat. Cook until reduced by about half. (Mine took about 10 minutes, stirring occasionally.)

Set in the fridge to chill until completely cooled.

Preheat the oven to 325 degrees F. and lightly spray the inside of a donut pan with non-stick baking spray; set aside.

In a medium bowl (or the base of stand mixer) mix together the 1 C. four, 6 Tbsp. sweeter, and 1 Tsp. baking powder.

In small bowl, whisk together the 2 Tbsp. of the strawberry reduction, 2 Tbsp. greek yogurt, 1 egg, 3 Tbsp. almond milk, 1 Tbsp. butter, and 1/2 Tsp. Vanilla.

Slowly mix the wet ingredients into the dry. DO NOT OVER MIX.

Transfer the batter to a ziplock (or piping bag) and pipe the batter into the prepared donut pan.

Place the pan into the oven and bake for about 10 minutes or until the dough is set and the edges of the donuts are starting to brown.

Remove from the oven and transfer to a wire rack too cool.

Crush the 1/2 C. dried strawberries into more of a powder.

While the donuts are cooling, mix together the 1 C. confectioners sugar replacement, 1 Tbsp. of the strawberry puree, 1 Tbsp. milk, and 1/2 C. dried strawberry dust/powder until well combined.

Dip the donuts face side down into the glaze a time or two and add sprinkles on top if desired.

Allow the donuts to sit for a few minutes for the glaze to set.

Once the glaze is set, enjoy right away!
Step-by-Step Photos:
Nutritional Claims:Low Sodium Sugar ConsciousLow PotassiumKidney FriendlyVegetarianPescatarianPeanut FreeSoy FreeFish FreeShellfish Free Pork FreeRed Meat FreeCrustacean FreeCelery FreeMustard FreeSesame FreeLupine Free Mollusk FreeAlcohol FreeNo Sugar AddedKosher