by Aimee
If you love the lightness of an apple cider cake and the deep flavours of a gingerbread bundt cake, then you'll appreciate that this bundt cake has the best of both.
Every autumn in the Simple Bites kitchen there is a window of time when no dessert but a simple snacking cake will do.
This sweet spot is nestled right in between the pie socials of October and the Twelve Days of Holiday Baking Projects in December.
During this cozy season at home, we're craving neither pie nor cookies, but comforting cakes, served up in thick slices, any time of day or night.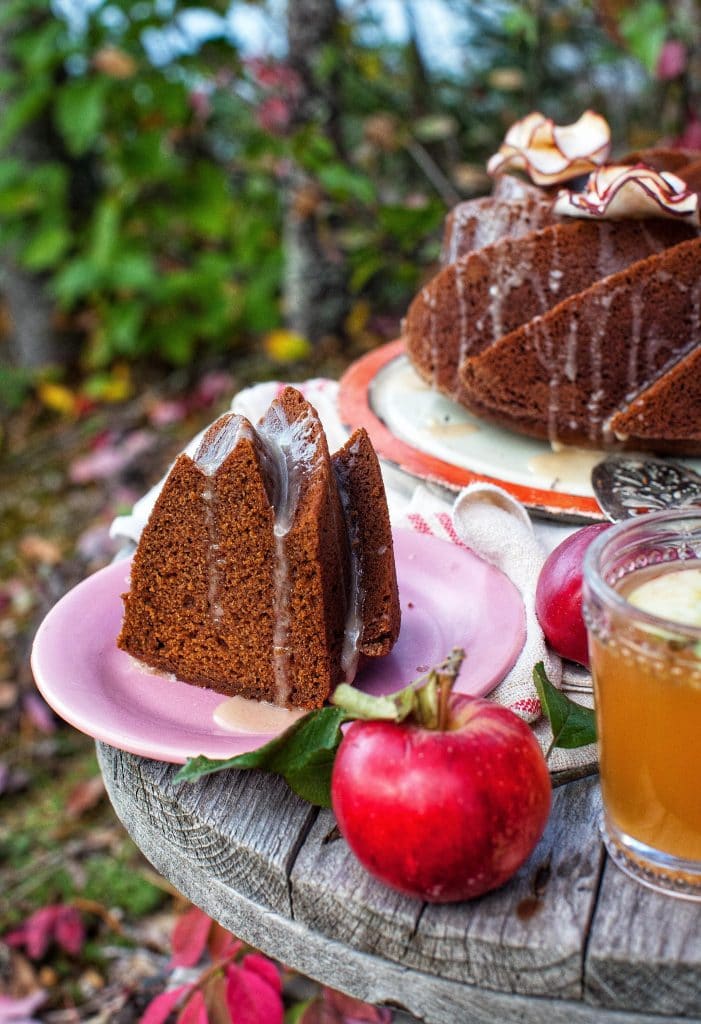 It's the grey, drizzly November days that spur us to bake our favourites like Chocolate Beet, Carrot and Pumpkin Spice. It's no coincidence that this is also when beets, carrots and pumpkins are in ample supply at the markets.
Another local specialty in abundance: fresh pressed apple cider. It's one of my favourite ingredients and features in everything from mocktails to a slow cooker ham.
Today, I've bake it into a lightly-spiced, apple-flavoured gingerbread bundt cake, and glazed the whole thing with more cider.
It's both a celebration of fall flavours and a necessary comfort to get us through to the holiday season.
Apple Cider Gingerbread Bundt Cake
You too can transition into fall baking with this easy yet elegant dessert! This gorgeous gingerbread bundt cake covers all the bases, from comforting counter cake to festive showstopper.
I've kept the decorations simple, but you could certainly dress it up with sugared cranberries or a generous drizzle of Maple Caramel Sauce and serve it around the winter holidays.
Read on for my best bundt baking tips, substitution suggestions, and the recipes for both gingerbread bundt cake and spiced apple cider glaze.
How to Properly Prepare a Bundt Pan
It's the worst when a bundt cake sticks to the pan. Presentation is what matters when serving these elegant cakes and no one wants to have a chunk missing in the top!
First, you need a quality pan; I use the Heritage Bundt Pan from Nordic Wear and have never had any problems with it releasing my cakes.
Second, here's what you need to properly prepare a bundt pan for you cake batter:
Softened unsalted butter
All-Purpose flour for dusting
Make sure the pan is very clean. Brush the pan liberally with the soft butter. I use a silicone pastry brush to get in all the deep cracks of my spiral bundt pan.
Dust the pan generously with flour. Then tip the pan over a sink or dustbin and tap it to remove the excess of flour. Now you're all set to pour in the batter and bake.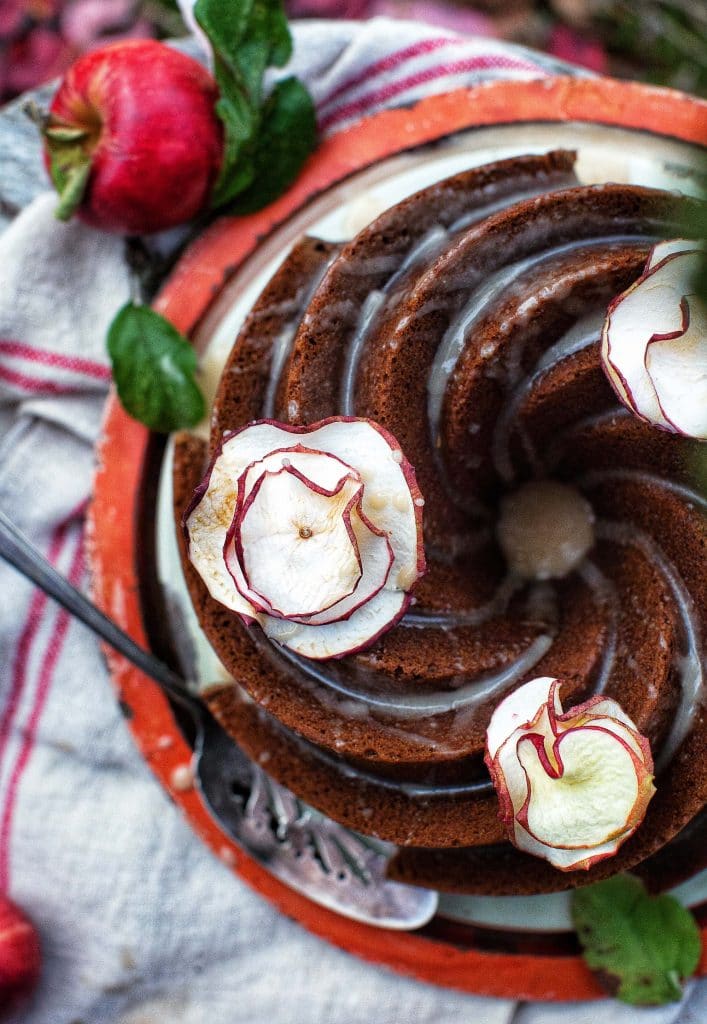 Tips for Getting a Bundt Cake out of the Pan
Removing a gingerbread bundt cake from the pan in one piece requires a few steps:
Let rest in the pan for 10 minutes when it comes out of the oven. The cake will pull away from the sides of the pan as it cools.
Loosen around the sides with an offset spatula or thin knife.
Lift the cake + pan up three inches and drop it onto the counter once or twice. I find this helps shake it loose.
Place a wire cooling rack over the top and invert the cake. Lift off the bundt pan. Cool the cake completely.
Is the cake still stuck? Drape a clean, damp tea towel over the top and cool it for another 10 minutes in the pan. The moisture created will help loosen the edges. Then repeat steps 3 and 4 above.
If all else fails, cover any patchy spots with frosting!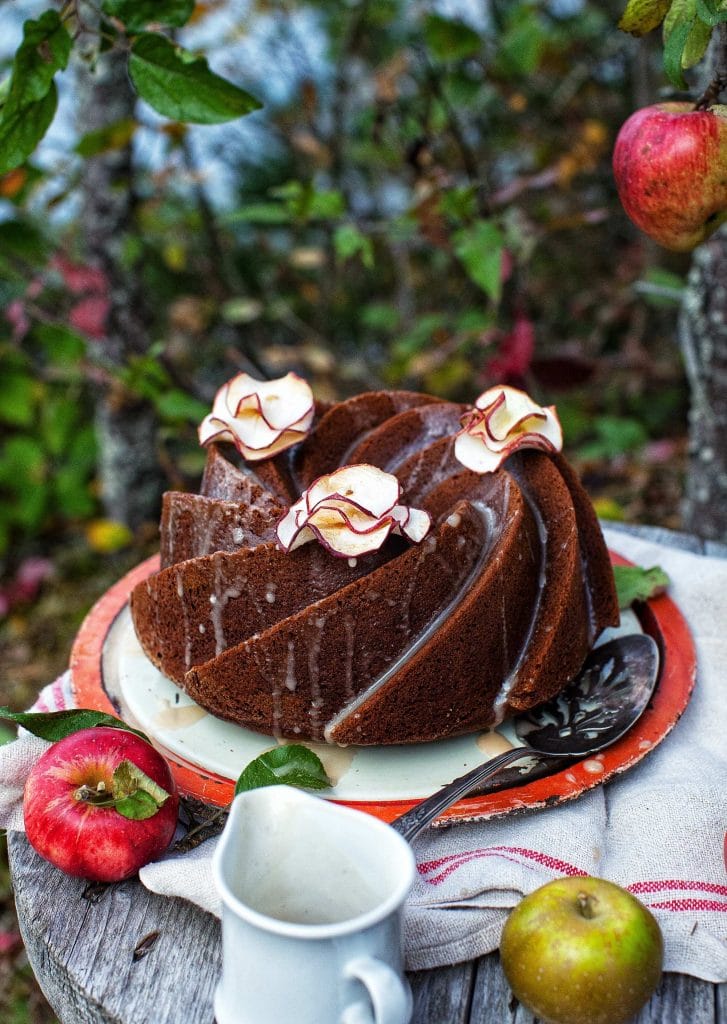 Gingerbread Bundt Cake substitutions
We should be able to bake a cake, no matter if we don't have all the right ingredients on hand. Here are a few handy substitutions for this cake.
Use pumpkin puree instead of applesauce if that is what you have on hand.
Apple juice can be used instead of fresh pressed apple cider. You could also use a sparkling (alcoholic) apple cider. Occasionally there's some leftover in the bottle that goes flat, and this is a great way to use it.
Use two flax eggs or egg substitutions to make this recipe completely vegan.
Use 2 tablespoons of a pumpkin spice blend or seasonal equivalent instead of the individual spices listed.
Feel free to change up the glaze to suit your tastes. It would be excellent with a maple icing or salted caramel drizzle.
I decorated the cake with homemade maple cinnamon apple chips. it would also be beautiful with candied ginger,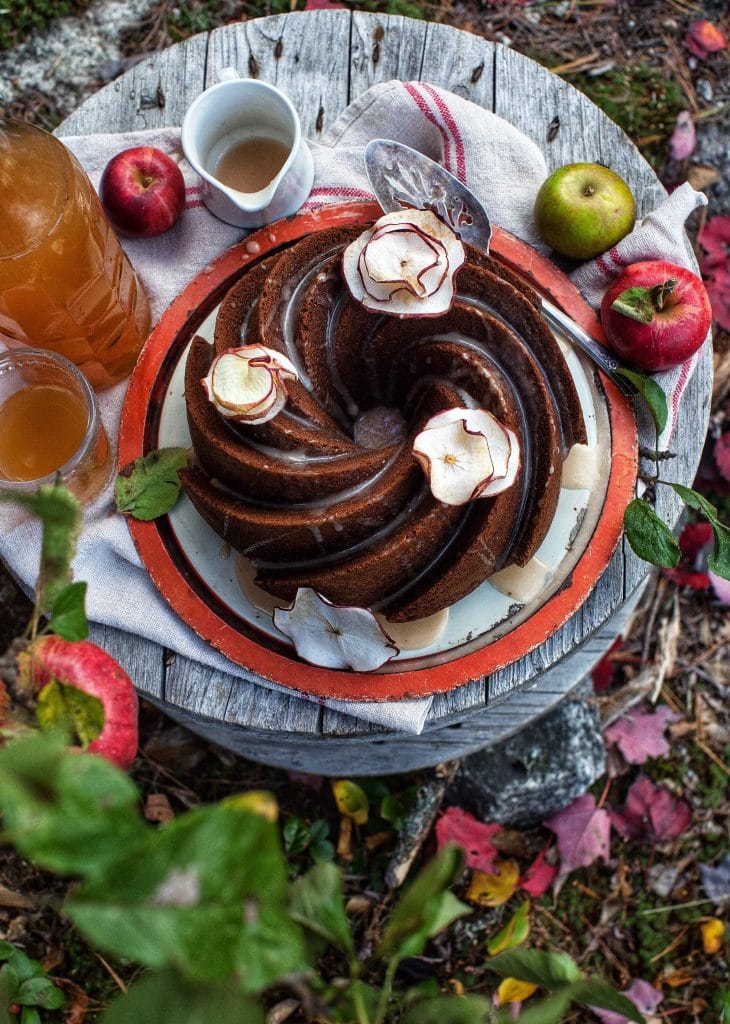 Print
Apple Cider Gingerbread Bundt Cake
Transition into fall baking with this simple yet elegant bundt cake. Light as feathers, it's packed with deep flavour.
Essential Ingredient
apple cider
Total Time
1
hour
30
minutes
Ingredients
1

cup

fresh pressed apple cider

3 1/3

cups

all-purpose flour

1 1/2

teaspoon

fine sea salt

2

teaspoons

baking soda

1

tablespoon

ground ginger

2

teaspoons

ground cinnamon

1/4

teaspoon

freshly ground nutmeg

2

large

eggs

room temperature

3/4

cup

canola oil

3/4

cup

packed light brown sugar

1

cup

fancy molasses

1/2

cup

unsweetened applesauce

1

teaspoon

pure vanilla extract

1/3

cup

Cider Glaze

(recipe follows)

Apple Chips

to garnish (optional)
Instructions
Preheat the oven to 325°F and place the baking rack in the middle of the oven. Review 'How to prepare a Bundt pan' in the post above, then butter and flour a 10-cup Bundt.

In a small saucepan, bring 1 cup of apple cider to a boil. Turn off heat and keep hot.

In a large bowl, whisk together the flour and salt. Sift in the baking soda and spices. Whisk to combine well.

In an another large bowl, beat the eggs until frothy. Whisk in the oil, sugar, molasses, applesauce and vanilla.

Pour the wet ingredients (eggs, etc) into the dry (flour, etc) and stir gently with a spatula to combine. Pour over the hot apple cider and stir until all the lumps are gone.

Scrape the batter into the prepared bundt pan. Place on the middle rack of the oven and bake for 55 minutes to 1 hour, rotating once. A toothpick inserted into the middle should come out clean.

Cool the cake in the pan, set on a wire cooling rack for 10 minutes.
Nutrition
Calories:
635
kcal
|
Carbohydrates:
101
g
|
Protein:
7
g
|
Fat:
23
g
|
Saturated Fat:
2
g
|
Polyunsaturated Fat:
6
g
|
Monounsaturated Fat:
14
g
|
Trans Fat:
1
g
|
Cholesterol:
47
mg
|
Sodium:
753
mg
|
Potassium:
803
mg
|
Fiber:
2
g
|
Sugar:
59
g
|
Vitamin A:
74
IU
|
Vitamin C:
1
mg
|
Calcium:
130
mg
|
Iron:
5
mg
txt
Print
Spiced Apple Cider Glaze
An intensely flavoured glaze for cakes and doughnuts. Tangy and sweet, this drizzle is addicting!
Essential Ingredient
apple cider
Ingredients
1

cup

fresh pressed apple cider

1/4

teaspoon

ground cinnamon

1

drop

pure vanilla extract

1

cup

powdered sugar
Instructions
In a small pot over medium heat, bring the apple cider to a boil. Keep an eye on it and boil it until it has reduced to 1/3 cup. This is concentrating the flavour and thickening it into a syrup. Cool completely.

In a small bowl, whisk together the cooled apple cider reduction, cinnamon and vanilla. Sift in the powdered sugar, then whisk until smooth.

Your spiced cider glaze is ready to use. Drizzle over desserts or store in an airtight jar for up to one week. Keep refrigerated.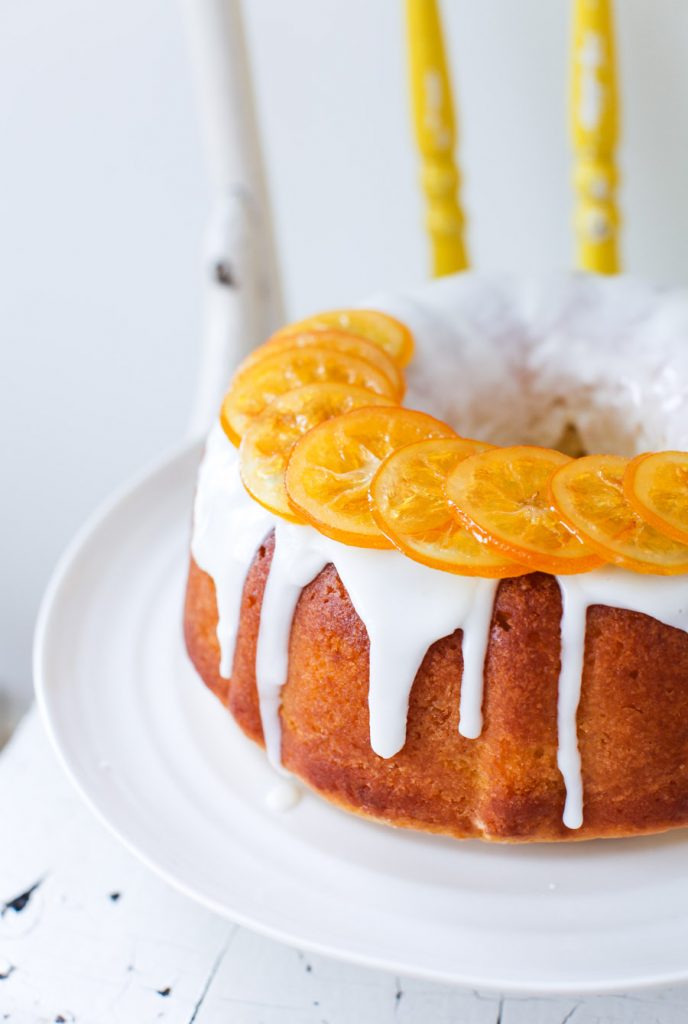 More Bundt Cake Recipes
Dark Chocolate Beet Bundt Cake
Oatmeal Pumpkin Bundt Cake with Maple Caramel Sauce
Happy Baking!
This post contains Amazon affiliate links that help me pay for my blogging fees.
Original article: Apple Cider Gingerbread Bundt Cake.