With winter inevitably giving way to spring and brighter weather, it's natural to want to socialize again. Socializing has many benefits, especially if you're over 50. A Harvard study of Americans over 50 showed that socially active seniors had less than half the memory decline of those living isolated lives. Another 4-year study on American women above 78, showed that women with larger social networks were far less likely to get dementia than those having a smaller network. Socializing also reduces stress and depression, while making you happier, with more self-esteem.
When you're hosting a party, it can require a lot of effort, especially when it comes to picking the menu, and then cooking it. Well, not anymore. Because there's a device that reduces cook times drastically – the Instant Pot. Once you've set it to cook, you can busy yourself with other stuff. The device does its thing and switches off when complete. Even better, Instant Pot recipes are usually one-pot meals, meaning there's less cleaning to do. 
But the greatest benefits of the Instant Pot arise from the closed cooking chamber. Because very little is allowed to escape, the food is juicier, more flavorful, and retains more nutrients than any other cooking method. You should try and discover more about the Instant Pot (if you don't own one already) and a good place to start is the 1001 recipes at Corrie Cooks – perhaps the best Instant Pot recipes out there.  
5 Instant Pot Recipes Perfect for Parties
So let's get to the meat of the matter – here are 5 Instant Pot recipes that'll have your guests oohing and aahing for sure!
Instant Pot BBQ Sweet Meatballs

Meatballs, again, are a dish everyone loves. This recipe conveniently uses frozen meatballs, so you can save time while you're busy running around like a hurricane, trying to get everything ready on time! You could either buy the meatballs from a store or prepare them a day or two ahead and put them in the freezer.
Ingredients:
2 lbs meatballs, fully cooked and frozen

1 cup water

½ cup grape jelly

1 cup BBQ sauce
Instructions:
Pour water into the Instant Pot, and place in a steamer rack.

Fill the rack with the meatballs.

Cook for 5 minutes under high pressure.

Allow for a natural pressure release, and drain the meatballs.

Empty the water from the Instant Pot, and dunk in the grape jelly as well as the BBQ sauce.

Put the Instant Pot into saute mode, and cook for 2 minutes, or till the sauce is as smooth as you like it.

Put in the meatballs carefully, mix around well, and cook for an additional minute.

Serve hot, plating the meatballs first, and pouring the sauce over it.
Instant Pot Pork Roast
If you're looking for a dish that will take center stage, this is it – Instant Pot pork roast. The meat is juicy and succulent, while the flavors are a knockout. This dish takes – hold your breath – just 20 minutes to make! Now, compare that to traditional recipes that can take as much as 3.5 hours.
Ingredients:
1 lb pork tenderloin

1 cup chicken broth, low sodium

1 tbs balsamic vinegar

½ tsp seasoning salt

1 tsp dried parsley

¼ tsp black pepper

¼ tsp onion powder

1 tsp garlic powder

1 tbs ketchup

2-3 tbs honey

1 tbs cornstarch

1 tbs water

1 tbs Worcestershire sauce
Instructions:
Pour the balsamic vinegar and chicken broth into the Instant Pot, and place in a trivet.

Mix seasoning salt, garlic powder, black pepper, parsley, and onion powder in a bowl.

Sprinkle the mix all across the pork and put some of it on the top surface.

Divide the meat into two, and place both on the trivet in a single layer.

Close, and cook for 7 minutes under high pressure.

When the cooking time is over, release the pressure quickly, and empty the device. 

Mix the cornstarch with the water till there are no lumps.

Turn on saute mode, and pour in the cornstarch mix, ketchup, Worcestershire sauce, and honey. Cook for 2-3 minutes, till the sauce is bubbling and thick.

Serve the pork tenderloin in slices, with drizzles of sauce.
Instant Pot Sloppy Joes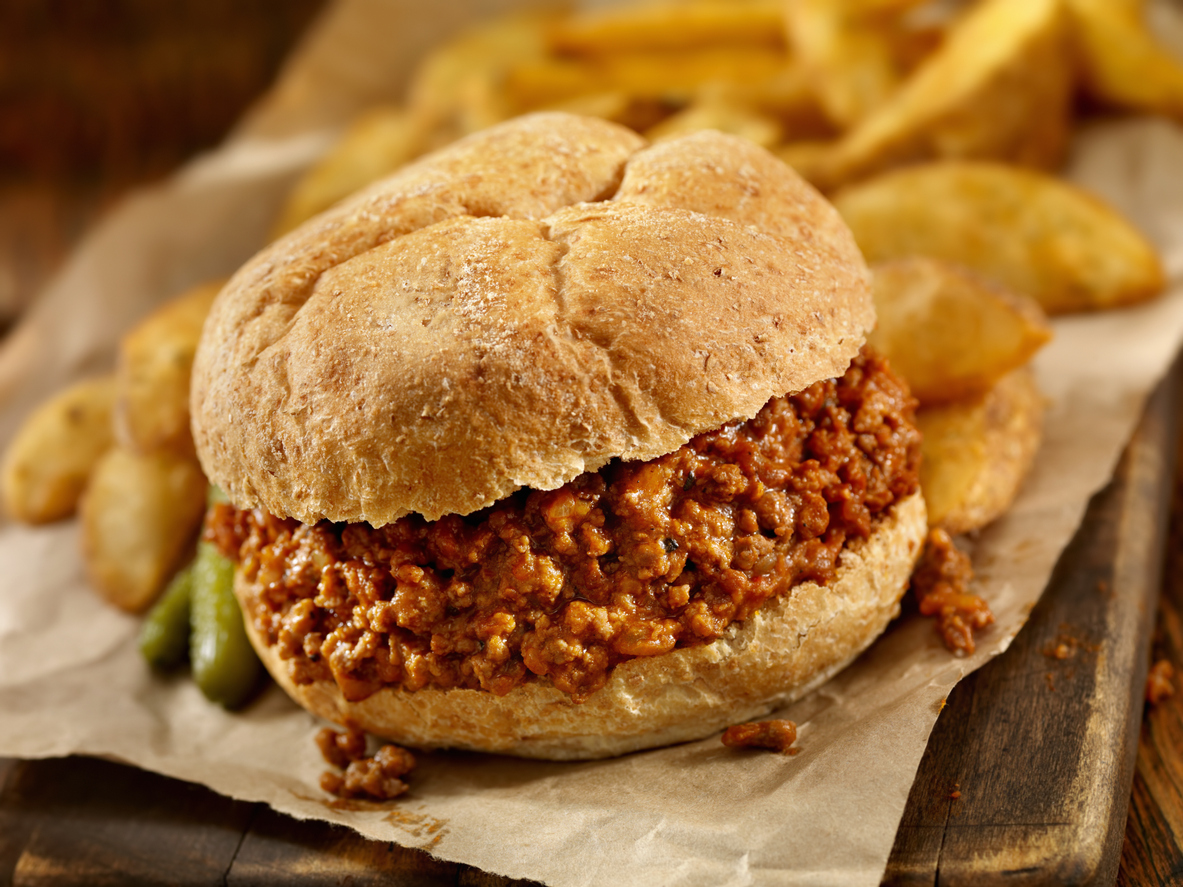 Sloppy Joes are a party classic loved across ages. Both the young of age and the young at heart love digging into it, ignoring the inevitable drips and dribbles. In fact, many actually revel in it! As always with the Instant Pot, the cook times are stunning – just 15 minutes for this recipe!
Ingredients:
1 lb beef, ground

4 garlic cloves, minced

1 tbs olive oil

½ onion, large, chopped

½ cup ketchup

½ cup beef broth

⅔ cup green bell pepper, chopped

½ tbs brown sugar

2 tbs mustard,  prepared

1 tbs tomato paste

½ tbs chili powder

1 tbs cider vinegar or lemon juice

2 tbs Worcestershire sauce

1 tbs corn starch

¼ cup water

4 hamburger buns

½ cup celery chopped (optional)
Instructions:
Put the tomato paste, ketchup, brown sugar, mustard, chili powder, vinegar, and Worcestershire sauce in a bowl and keep it aside.

Put the Instant Pot into saute mode and throw in the olive oil, garlic, and beef.

Cook for 3 minutes.

Add in the onions and peppers. Cook for an additional 2 minutes.

Put in the ketchup and beef broth, mix, seal the pot, and cook for 7 minutes under high pressure.

When done, quickly release the pressure.

Put the cornstarch into the water, and mix until any lumps are dissolved.

Pour this mixture into the Instant Pot, and cook in saute mode for 2 minutes. Stir all the while, and stop when the sauce is nice and thick.

Slice the buns in two, put in the cooked sauce till it's dripping out, add some chopped celery, and serve with a bunch of paper napkins!
Instant Pot Cherry Cheesecake
There are desserts that wow your palate. Then there are desserts that stun your eyes before wowing your taste buds. This Instant Pot Cheesecake belongs to the latter. It will have your guests' eyes transfixed as you take it from the kitchen to the dining table!
Ingredients:
8 oz ricotta cheese

8 oz cream cheese, softened

¼ cup + 2 tbs sugar, powdered

¼ cup sour cream

2 eggs

2 tbs butter,  unsalted, melted

10 oreo cookies, crushed

1 tbs vanilla extract

¼ cup maraschino cherries
Instructions:
Beat together the cheeses, ¼ cups sugar, and eggs in a bowl, until smooth. 

Fold in vanilla extract and sour cream. 

Mix the butter and crushed Oreo in another bowl.

Take a 7-inch springform pan, and put the cookie mix at the bottom, pressing down gently, so the surface is even.

Put the cheese mixture on top, spreading around, till the surface is even.

Pour a cup of water into the Instant Pot, and place in a trivet.

Put the pan on the trivet, seal the lid, and cook for 40 minutes under high pressure. 

When done, release the pressure quickly.

Open, and let the cake cool on wire racks. 

Place in the refrigerator for a minimum of 12 hours.

Sprinkle the 2 tablespoons of sugar on top, along with the cherries. Serve cool.
Instant Pot Cabbage Tamales
This is one of those veggie dishes your kids will wolf down without a complaint. The same applies to seniors too. Instant Pot cabbage tamales are one of those dishes you get at fancy restaurants, and your guests won't believe you've made it!
Ingredients:
2 cups water

3 lbs head of savoy cabbage, outer leaves discarded, cored

½ cup  rice, long-grain, uncooked

⅓ lb pork, ground 

⅓ lb veal, ground

⅓ lb beef, ground

2 x 28 oz tomato sauce cans 

½ cup onion, 

2 garlic cloves, large, finely chopped

1 tsp parsley, dried

Salt and black pepper (freshly ground) as per your taste
Instructions:
Put 1½ cups of water in the Instant Pot, and place in a trivet.

Place the cabbage on the trivet, with the core-side facing down.

Close the lid, and cook for 9 minutes under high pressure.

While it's cooking, place the rice and remaining water in a bowl, and move it around. 

Let it sit for 10 minutes.

Take another bowl, and mix the meat, garlic, onion, parsley, ⅓ cup tomato sauce, pepper, and salt.

When the cooking is done, let the pressure release naturally for 5 minutes and then release any remaining steam quickly.

Place the cabbage on a plate, and empty the device.

Drain the long-grain rice, and mix it with the meat mix.

Carefully take the cabbage leaves apart, and shave the really tough veins off.

Place the cabbage leaves on a flat surface, spreading them out.

Take around 2 tablespoons of the meat mix, put it on a leaf, and roll it, tucking the sides in. Repeat with the other leaves. 

Pour the tomato sauce remaining in the open can into the Instant Pot. Seasoning it with around 1 teaspoon of salt, mixing well.

Place a trivet in the Instant Pot, and arrange the cabbage rolls on it in a single layer.

Empty one can of tomato sauce all over the cabbage.

Seal the lid, and choose "Meat/Stew" on the Instant Pot. The default cook time for this setting is 22 minutes, and it will do.

When done, allow the pressure to release naturally for 10 minutes, and then release any remaining pressure quickly.

Place the rolls on a platter, drizzle the tomato sauce around, and serve hot.
So go on and live life to the fullest! Spend time with friends and family (at least online), take precautions, take care of your nutritional intake, build new relationships, and get your daily dose of exercise too. And don't forget to use the Instant Pot – it's simply brilliant!
Read Next:
Watermelon Salad: The Perfect Summer Recipe
Delicious Fall Recipe: Mushroom Soup with Gruyere Crust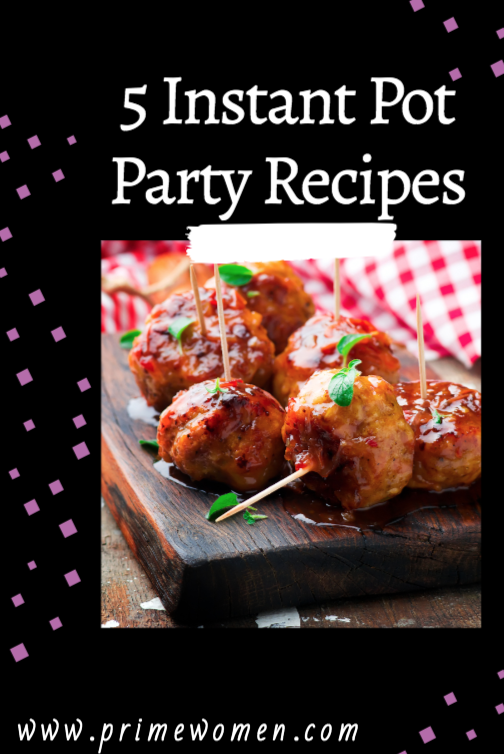 The post 5 Instant Pot Party Recipes appeared first on Prime Women | An Online Magazine.